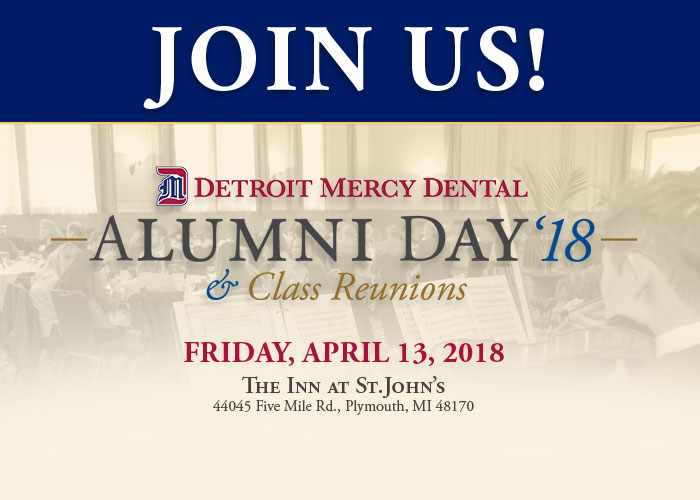 We are very excited to invite you to Detroit Mercy Dental Alumni Day 2018 at The Inn at St. John's!  This event always proves to be one of the year's highlights, so mark your calendars for April 13, 2018 and gather your friends for what is sure to be a great day.  Here are the top five reasons you don't want to miss out:
1. It's all about the $$, honey: This year's featured Continuing Education course is titled Real Wealth: Detecting, Preventing & Eliminating Financial Debt Through Recovering Cash and Taking Control of Your Finances and is presenting by New York Times bestselling author, Garrett Gunderson. The course will help transform your finances in your personal and professional life. If you are interested in bringing along your dental team, we are happy to host; non-alumni are always welcome to attend our courses!
2. Make new friends…: More than 200 attendees participate in Alumni Day, all with unique career paths and professional stories. Take this opportunity to network, connect and perhaps even partner with individuals who can provide you with new experiences.
3. …but keep the old: Celebrate 85 years of excellence in dental education with Detroit Mercy Dental. Let the nostalgia settle in and reminisce about the great times you had as a student; catch-up with classmates and fellow alumni from those beloved dental school days. If you are celebrating a reunion (graduation years ending in 3 or 8), you will have even more opportunity to get sentimental!
4. Real Talk – What is dental school like in 2018?: Our students will answer your questions about what education and student-life is like today during the highly anticipated Student Panel Discussion. Get your questions ready.  What is it you are itching to know?
5. Shop 'til you drop: From Detroit Mercy Dental apparel to vendors and suppliers, engage in a little retail therapy…after all, you'll have some extra spending money after getting schooled in the day's featured course.
Purchase your ticket today!
For more information about Alumni Day and Class Reunions, visit our website: dental.udmercy.edu/alumniday