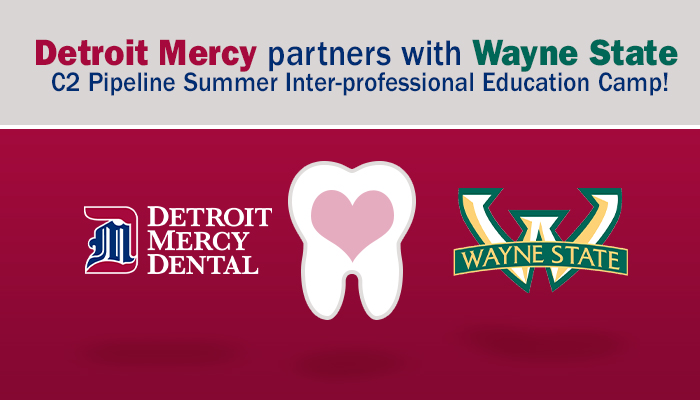 The Office of Diversity and Inclusion is pleased to announce a partnership between Detroit Mercy Dental and the Wayne State University C2 Pipeline Program to offer a new Dentistry track as part of their 2017 Warrior's College Experience Residential Camp on July 24-August 3, 2017.
As part of this 11-day experience, students will work on an inter-professional education (IPE) group project on Diabetes and can experience college life by living in the dorms and participating in sessions at both Detroit Mercy Dental and Wayne State University. At the end of the program, the IPE teams will present their projects and compete for scholarship money to attend Wayne State University!
This IPE summer camp is geared toward high school students entering their sophomore, junior, and senior year during the 2017-2018 academic year. Student can apply for six different tracks, which include: dentistry, nursing, medicine, social work, engineering, and pharmacy/health sciences.
Students that attend partner high schools affiliated with the Detroit Mercy Dental Imprint Program or C2 Pipeline Centers will receive full scholarships to attend the program at no cost.  For other students, the cost to attend the camp is $300. There is a sliding fee scale for students who receive free/reduced lunch.
How to Apply:
*Applications will be accepted through June 10, 2017. 
Interested high school students should apply ASAP!
For questions, please contact c2pipeline@wayne.edu or (313) 577-1847.