Everyday, there are special achievements and newsworthy headlines happening at the School of Dentistry. In effort to give proper acknowledgement and share these successes, please tune in for the monthly Dean's High 5 as we acknowledge those responsible for the top five stories happening at Detroit Mercy Dental.
Congratulations on your hard work – you make Detroit Mercy the place to lead and learn.
Professor Lynne Morgan to serve on Michigan Board of Dentistry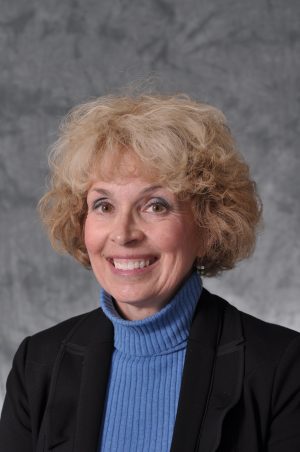 On Thursday, Aug. 18, M. Lynne Morgan, R.D.H., M.S., M.A., affiliate professor, will be sworn in as a member of the Michigan Board of Dentistry. Of the 19 voting members, she will be one of four dental hygienists. Morgan has vast experience within the dental hygiene profession. She has held numerous roles in dental and dental hygiene education, frequently presents continuing education courses and has served as a Dental Hygiene Examiner for the Commission on Dental Competency Assessments.
Student group awarded at National Dental Association convention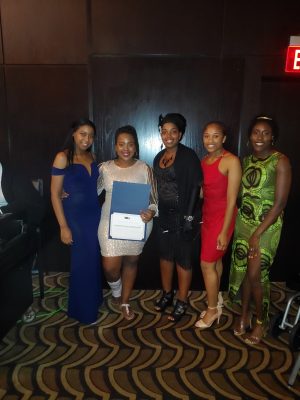 At the 106th National Dental Association (NDA) Convention in July, the Detroit Mercy Dental chapter of Student National Dental Association (SNDA) was recognized twice. The student group won first place in the 2nd Annual SNDA Colgate Bright Smiles, Bright Future Awards Competition which included an engraved plaque and a $1,000 award. This award was based on their outstanding contributions for community outreach. Detroit Mercy SNDA also received the "Chapter of the Year" Award, which was given to the chapter that excels in fundraising, community service and new initiatives. We are incredibly proud of our students' hard work!
Faculty chosen to participate in ADEA/AAL Emerging Leaders Program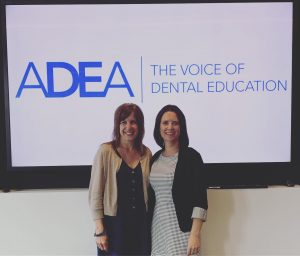 In July, Kathi Shepherd, assistant dean for Educational Development and Assessment, associate professor, and Ana Andrada, D.D.S., D.M.Sc., clinical assistant professor, participated in the ADEA/AAL Emerging Leaders Program at the ADEA Headquarters in Washington, D.C. The yearlong program involves the completion of a scholarly collaborative project with peers from other dental schools. It is designed to provide early-career faculty showing great promise as potential leaders the guidance, insight and skills needed to build an academic career and culminates in a presentation at the 2020 ADEA Annual Session. Shepherd is advisor in the program while Andrada is participating as a fellow.
Alpha Omega travels to Dominican Republic for mission trip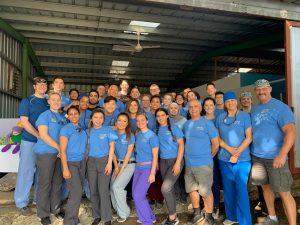 For a week in May, 25 students from the Detroit Mercy Dental chapter of Alpha Omega traveled to Puerto Plata, Dominican Republic for a mission trip. There, the group provided oral health services to underserved and under privileged communities. More than 200 patients were seen and 414 procedures were completed including cleanings, fillings and extractions. The team was accompanied by four faculty: Michael Haddow, D.D.S., affiliate associate professor, Halcyon Inniss, D.D.S., affiliate professor, Laura Manning-Lee, R.D.H., clinical associate professor, and Christela Falcon, R.D.H., affiliate professor; and three alumni: Michael J. Vilag, D.D.S. '13, Adoni Farah, D.D.S. '16 and Horacio Falcon, D.D.S. '17.
Periodontics faculty and residents present at International Dental Forum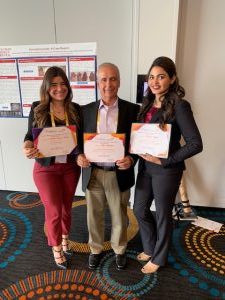 Several representatives from Detroit Mercy Dental attended the International Dental Forum conference in London from July 15-17. Michael Haddow, D.D.S., affiliate associate professor, and Vidushi Gupta, D.D.S., periodontics resident, spoke at the conference, presenting on the topic, "Surgical Management of Generalize Gingival Recession Comparing Subepithelial Connective Tissue Graft vs. Xenogenic Collagen Matrix: Case Series." Periodontics resident, Andrea Lopez-Torres, D.D.S. presented a research poster as well.