Everyday, there are special achievements and newsworthy headlines happening at the School of Dentistry. In effort to give proper acknowledgement and share these successes, please tune in for the monthly Dean's High 5 as we acknowledge those responsible for the top five stories happening at Detroit Mercy Dental.
Congratulations on your hard work – you make Detroit Mercy the place to lead and learn.
---
Titan Winter Blast Chili Cookoff Winner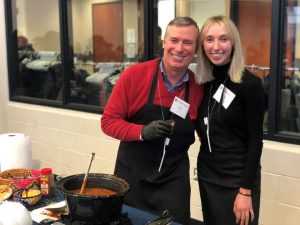 Dental Alumni Board Vice President, John Dinka, D.D.S. '86 and first-year dental student Jenna Dinka turned the heat up at the The Titan Winter Blast 2020 on Saturday, Jan. 25. Their chili won the School of Dentistry first-place in the annual Chili Cook-Off! Thanks for keeping the trophy in its rightful home.
Delta Dental of Michigan makes grant to improve oral health services in Wayne and Macomb counties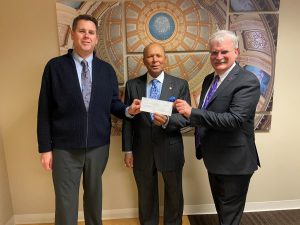 Dr. Erik Stier of Delta Dental of Michigan, left, presents University President Antoine M. Garibaldi and Dean of Detroit Mercy Dental Mert Aksu with a check of $135,000 for 2019 to improve access to oral health services in Wayne and Macomb counties as a part of a multi-year project to improve the oral health of children in the tri-county area. The funds to will be used to expand the reach and services of Detroit Mercy Dental Mobile Clinics and partnerships with Federally Qualified Health Centers. The funds will be used to establish a preventive oral health services program in partnership with MyCare in Macomb County and establish a dental clinic in partnership with Wayne County Health Communities in Hamtramck.
Article featured in Journal of Dental Humanities
Congratulations to Professor Maha Ahmad and student Rafaella Shammas on their article "Inside the Anatomy Lab: Learning moments of an instructor and a dental student" being featured in the Journal of Dental Humanities. The Journal of Dental Humanities is a peer-reviewed online journal, with the mission to present thought-provoking material, connecting dentistry to the humanities and the social sciences. To read the article, click on www.journalofdentalhumanities.com, see Volume 3, Issue 3-4.
ReBUILDetroit student, Amber Abram receives award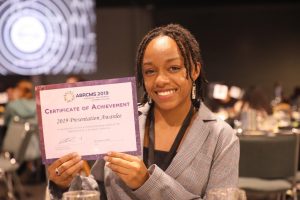 Amber Abram, a Detroit Mercy undergraduate student with the ReBUILDetroit program performing research at Detroit Mercy Denta,l presented her work describing bacterial interactions in root caries lesions from geriatric patients at the Annual Biomedical Research Conference for Minority Students (ABRCMS). Based on her poster presentation entitled "Veillonella species Associated with Root Caries Enhance Streptococcus mutans Biofilm Formation and Modulate Acid Production," Abram received a student presentation award in the area of microbiology, indicating her presentation was in the top 10% of presenters in her area of research. Abram performs her research under the guidance of Professor Eric Krukonis at the University of Detroit Mercy School of Dentistry.
Detroit Mercy Dental receives ADA Foundation Tarrson Award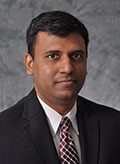 On behalf of the ADA Foundation, the University of Detroit Mercy School of Dentistry has been awarded an $11,417.83 Tarrson Award for the Detroit Mercy Outreach and Community Service/Malta Free Dental Clinic project. The grant allows expansion of services provided to uninsured adults at Malta free dental clinic for a year. Congratulations to Matthew Stanton DS3 for receiving the grant on behalf of DOCS and Associate Professor Divesh Byrappagari for his service and vision which helped lead us to this award.