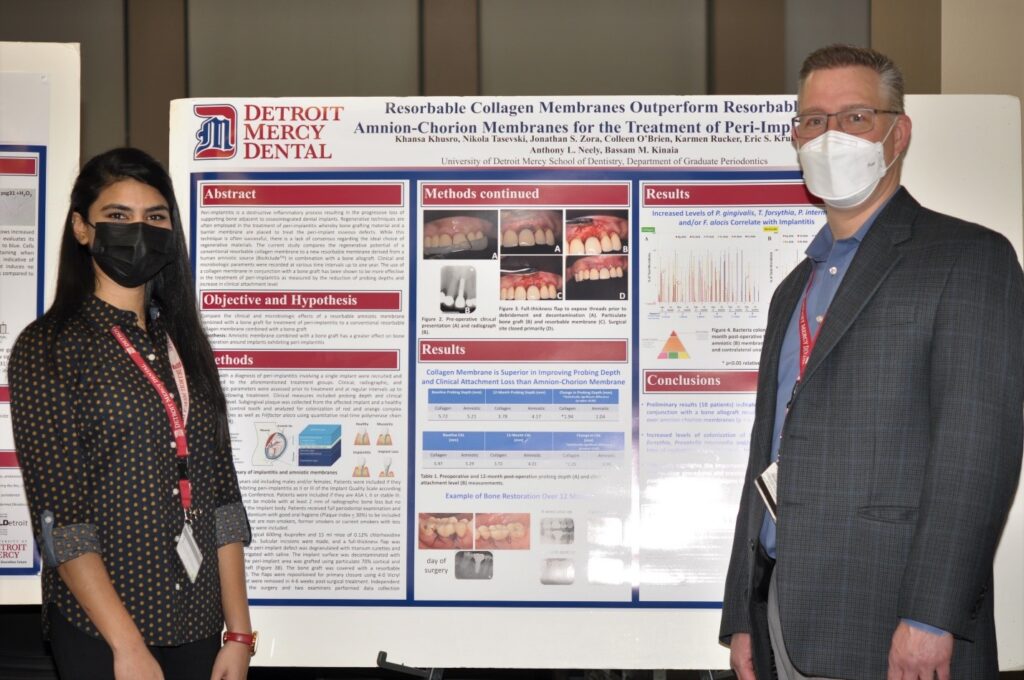 The Student Research Group reinstituted and hosted the Annual Student Research Day on April 22nd, 2022. This is the first research day event after a two-year hiatus due to COVID-19. Student researchers submitted posters highlighting their current research efforts at Detroit Mercy Dental and presented them to a panel of faculty judges. The winners of the poster competition were: 
1st Place – Khansa Khusro for her presentation of: 
Resorbable Collagen Membranes Outperform Resorbable Amnion-Chorion Membranes for the Treatment of Peri-Implantitis 
Authors: Khansa Khusro, Nikola Taveski, Jonathan S. Zora, Colleen O'Brien, Karmen Rucker, Eric S. Krukonis, Anthony L. Neely, and Bassam M. Kanaia 
2nd Place – Ritika Sanikommu for her presentation of: 
Antiviral Evaluation of Commercial Mouthrinses Using Bacteriophage 
Authors: Nesila Bilica, Samantha Gniazdoski, Lillian Nichols, Courtney Tessmer, Ritika Sanikommu, Laura Young, and Joshua Thomson 

People's Choice – Mollie Mahoney for her presentation of: 
Age, Reasons, and Motivations for First Dental Visit 
Authors: Mollie Mahoney, Tarik Shounia, and Salwa Atwan 
   Congratulations Khansa, Ritika, and Mollie!