Peggy loves her new smile, and she is thrilled to show it.
Peggy sought treatment through the Dental Co-Teacher Project, a collaboration between Detroit Mercy Dental, Jewish Vocational Services Tri-County Dental Program, and Community Living Services, Inc.  The project values patients with special needs as "co-teachers" who contribute to the experiences and clinical education of our student dentists.
Over nine months, a team of faculty and dental students provided extensive treatment, restoring Peggy's smile — and her confidence — after many years of extraction-only dentistry under Medicaid.
Since 2015, the Co-Teacher Project has helped increase dental students' competence and comfort in treating adults with intellectual and developmental disabilities, or I/DD.
"If students graduate with significant experience working with patients with I/DD, our hope is they would be willing to accept these patients in their practice, ultimately helping increase access to care in the dental community," said Divesh Byrappagari B.D.S, M.S.D., assistant professor, director of Dental Public Health and Outreach.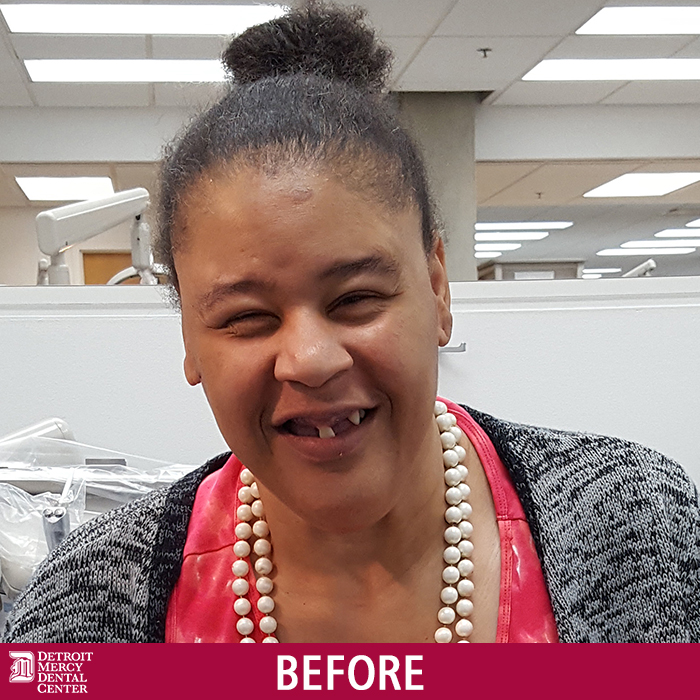 Before participating in the Co-Teacher Project, Peggy had difficulty eating and was self-conscious about her missing teeth. Her initial treatment included X-rays, an evaluation and a cleaning. Adjunct faculty member Cheri Newman, R.D.H. '89, D.D.S. '98, oversees dental students in the Co-Teacher Project, she thought Peggy would be able to wear partial dentures, so the School asked Medicaid to approve a waiver for a partial rather than a complete denture.
Peggy was happy because she did not want to lose any more teeth. Today, she not only looks good, but feels good. She works part-time shredding paper and sells candles through a micro-enterprise. She also enjoys making jewelry, and at each appointment, she models her latest bracelets and necklaces for faculty, staff and students.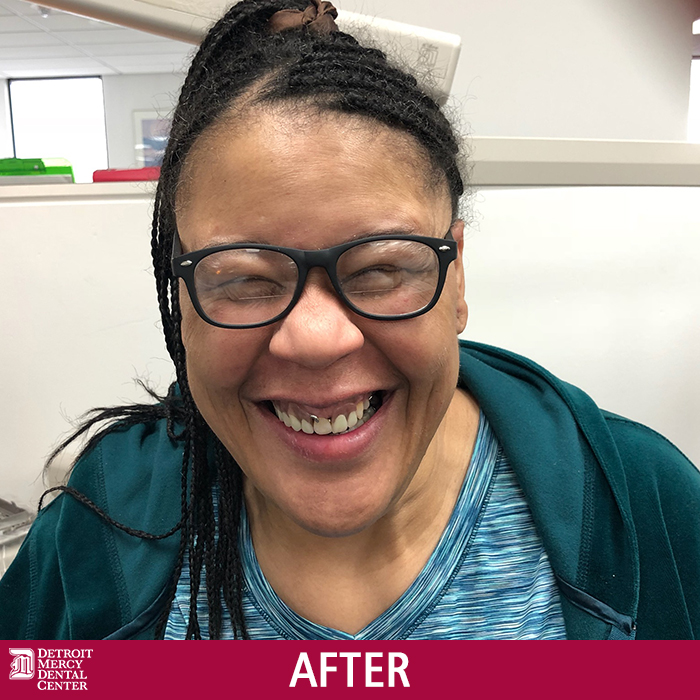 Newman is proud of the success of the Co-Teacher Project, particularly when it comes to students.
"The most notable accomplishment of this project over the past three years is the demonstrated ability of students to communicate with and treat patients with I/DD," she said. "They are noticeably more confident chairside and comfortable with providing care."
In addition to grant funding from W.I.T.H. Foundation (formerly Special Hope Foundation), Sinai Medical Staff Foundation, Michigan Dental Association Foundation (MDAF), Pierre Fauchard Academy, and the Delta Dental Foundation, the M. David Campbell Memorial Fund has been created to cover cost of treatment not covered by Medicaid.
If you would like to help other patients like Peggy, please contact Tom Sklut, director of Development at skluttw@udmercy.edu. If you know someone with I/DD who may benefit as a patient in the Co-Teacher Project, please contact Alesia James, Supervisor of PCC Coordinators, at 313-494-6959.
Co-written by Karen Trompeter, R.D.H. '74, M.P.H., director, JVS Tri-County Dental Program