By LT Jessica L. Singleton, D.D.S. '19 and LT David S. Singleton, D.D.S. '19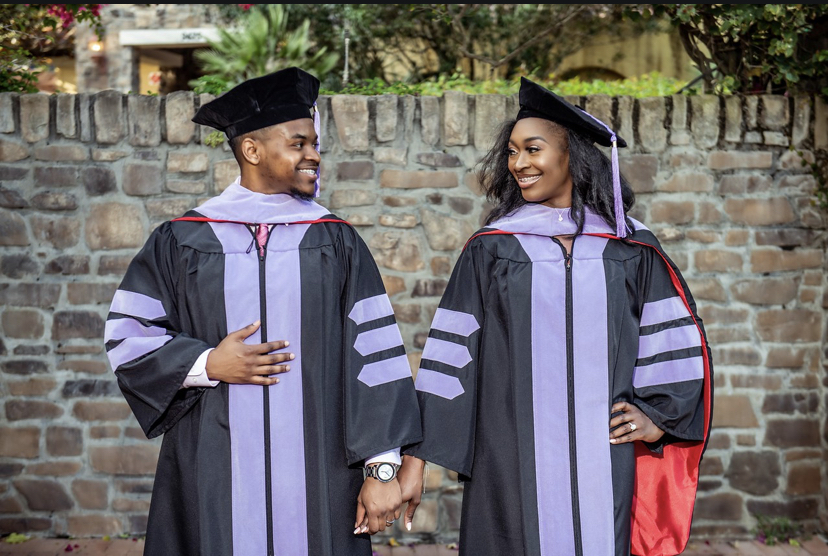 "Dr. Singleton, the patient is ready." Hearing this for the first time after graduating from Detroit Mercy Dental ignited a whirlwind of emotions within me. I had achieved my dream of becoming a dentist, but then I was quickly overcome with the reality that I-AM-IT. As a Navy dentist, I am responsible for safeguarding the trust and attending to the oral healthcare needs of sailors, Marines, retirees and their dependents. No more start checks or anyone to check my work. Having to really be an honest critic of my clinical skills and treatment planning and having to uphold the tenets of the oath that I took has now become my reality.
I talked to my husband about my experience and he echoed my sentiments and added that his initial reckoning with the fact that he was actually now a doctor was empowering. He said that he felt fortunate in that moment to be able to advocate and pass on his knowledge to his patients. Nonetheless, I think we both agree that the culmination of the academic and clinical rigors we had experienced over the previous four years led profoundly into a moment that felt so surreal, so…empowering.
My husband, David, and I graduated from Detroit Mercy Dental in 2019. Following graduation, we commissioned as lieutenants in the United States Navy. Having both served previously in the Army and deploying to Afghanistan together in 2012, it was only right that we continued to serve our country. We furthered our education through a general practice residency at Naval Hospital Camp Pendleton in Oceanside, Calif., as co-residents.
Now, if we are being honest, we both felt clinically competent to take on the world as new, independent dentists. However, we would soon learn that this feeling was far from the truth. While in residency we built on the foundational knowledge that we learned in dental school and continued to improve our hand skills. In addition, the residency had a strong medical focus and thus afforded us unique opportunities in really understanding and appreciating the bi-directional interplay of dentistry and medicine.
We responded to calls from the emergency room often, and as much as I never want to do that again, I can truly attest to how beneficial it was to my practice as a dentist. Those experiences not only gave David and me the opportunity to educate our medical counterparts, it also provided us the chance to view dentistry from a different lens. Being called into the emergency room at three o'clock in the morning to reimplant and splint an avulsed tooth or to perform an incision and drainage procedure on a patient with post-operative infection following extraction of their wisdom tooth or to suture the lacerated lip of a three-year-old who is sedated in the ER trauma bay all forced us to realize that our dental school education was just the tip of the iceberg. "To whom much is given, much is expected."
---
"Our lives are forever changed because of the many people at Detroit Mercy who helped us along the way."
---

That year challenged us, and we learned a great deal. As the saying goes, "You don't know what you don't know" and that was certainly true for us.
As Navy dentists, we have the unique opportunity to not only act as oral healthcare providers but from time to time we get to break up the monotony by firing military-grade weapons, observing military flight ops and, best of all, the opportunity to live in and immerse our family in the beautiful country of Japan. Whether we're visiting Shurijo Castle or hiking Hiji Falls, Detroit Mercy Dental will always hold a special place in our hearts.
We often recollect memories of cruising the Detroit River every fall, enjoying a fun night out during the school's annual talent show and, most of all, the many patients we were privileged to know and treat. Our lives are forever changed because of the many people at Detroit Mercy who helped us along the way.
David and I realize that we will one day retire as military dentists and start a civilian dental practice of our own. To that end, we have both decided to pursue specialty training in prosthodontics (what can I say, we like the same stuff). It comes as no surprise that many of the things that we love about dentistry involve a heavy focus in prosthetic, surgical and esthetic treatment planning. During my senior year of dental school, I was awarded the Francis B. Vedder award for fixed prosthodontics. So, I guess it's safe to say that my love for prosthodontics has always been there.
We are looking forward to providing advanced functional and esthetic rehabilitation to our servicemen and women and ultimately to our future patients once we transition away from the military. The education we received from Detroit Mercy has certainly given us many opportunities that we do not take for granted. We love Detroit and Detroit Mercy Dental!