By Joshua J. Thomson, Ph.D.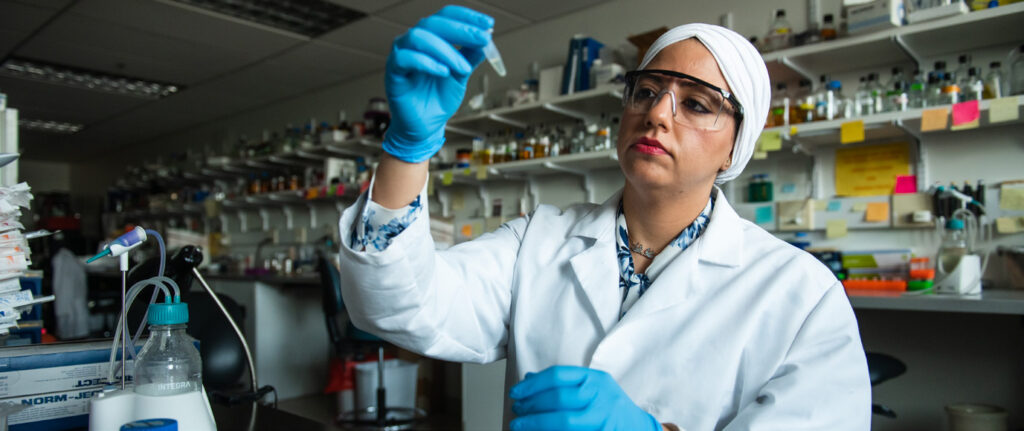 One week prior to scheduled flights to Washington, D.C., the two major dental-related conferences American Dental Education Association (ADEA) and International Association for Dental Research/American Association for Dental Research (IADR/ AADR), usually attended by many faculty and students from Detroit Mercy Dental, were cancelled.
Unaware of the state of health in our nation at that moment, we were understandably disappointed with the realization that we would all be missing out on a coveted time of camaraderie and school pride, during which we share our advances in dental education and dental research.

Detroit Mercy Dental was, once again, scheduled to have a great showing at the ADEA meeting with presentations and sessions from 19 faculty and students. Additionally, 11 faculty, residents, and dental students were to present research findings at the centennial celebration of the IADR.
The initial disappointment we felt upon receiving the news of cancellations quickly turned into feelings of helplessness as we became increasingly aware of the deep-seated roots of SARS-CoV-2 infections in Michigan, with much of the devastation focused in our home of Detroit.
As faculty, our attention was collectively turned to delivering content remotely, organizing our homes into family workstations and studios equipped with headsets and microphones reminiscent of a jet pilot. Meanwhile, our students scrambled to find safe, quiet places to remain vigilant in their studies and consider what their immediate futures held.
Our clinic and labs have resumed activity, and we have welcomed a new class of students. I have been thinking of the week we learned of the cancellation of the conferences and how we were unaware of the events about to transpire. I have come to the realization that many of our students involved in research, scheduled to present their findings in March 2020, may not get that opportunity again.
Therefore, it gives me great pleasure and pride to use this forum to highlight their accomplishments and share with the Detroit Mercy Dental community the fruits of our students' labor in educational and dental research over the past year.

The first acknowledgment goes to Taylor Robertson of the Class of 2022. He won the internal competition to be the Detroit Mercy Dental student representative for the 2020 AADR/Dentsply Sirona Student Competition for Advancing Dental Research and its Application (SCADA). He, along with his research mentor, Rafael Pacheco D.D.S., M.Sc., Ph.D., prepared a poster presentation for the competition entitled, "Spectral analysis of one-shade nanofilled resin composites under different lights."

Fortunately, despite the cancellation of IADR, Robertson was able to participate in a replacement virtual competition against 29 other student researchers in the Clinical Science and Public Health Research category. Robertson's research and presentation earned the third-place award. It was the first time a student from Detroit Mercy Dental had earned an award in this program.
---
Other Detroit Mercy Dental students with accepted abstracts for presentations at IADR/AADR or ADEA are:

IADR/AADR
Nicholas Ancona (Dental Class of 2021)
Mentor: Dr. Riyad Al-Qawasmi, Graduate Orthodontics
Abstract Title: Genetics of Teeth Angulation and Inclination in Patients with Malocclusion

Dr. Vidushi Gupta (Periodontics Class of 2020)
Mentor(s): Dr. Bassam Kinaia, Dr. Anthony Neely, Graduate Periodontics
Abstract Title: Treatment of Peri-Implantitis Comparing Two Resorbable Membranes: A Pilot Study

Haiyun Hou (Dental Class of 2021)
Mentor: Dr. Zheng Zhou, Graduate Periodontics
Abstract Title: In Vitro Evaluation of Cannabinoids on the Dental Regeneration and Repair of Human Dental Pulp Stem Cells

Dr. Omar Masabni (Periodontics Class of 2020)
Mentor(s): Dr. Bassam Kinaia, Graduate Periodontics, Dr. Riyad Al-Qawasmi, Graduate Orthodontics
Abstract Title: Heritability of the width of keratinized gingiva in siblings seeking orthodontic treatment

Lucas Mathes (Dental Class of 2021)
Mentor: Dr. Eric Krukonis, Integrated Biomedical Sciences
Abstract Title: Oregano Oil is Highly Antimicrobial Against Oral Pathogens

Dr. Jonathan Zora (Periodontics Class of 2022)
Mentor(s): Dr. Bassam Kinaia, Dr. Anthony Neely, Dr. Zheng Zhou, Dr. Tamika Thompson, Graduate Periodontics
Abstract Title: Factors Affecting Peri-Implant Health: Preliminary Data from a Retrospective Study

ADEA
Randall DeYoung (Dental Class of 2021)
Mentor: Dr. Junu Ojha, Integrated Biomedical Sciences
Abstract Title: Assessing Basic Oral Pathology Concepts Among Dental Students and Faculty

Alexi Kakaris-Porter (Dental Class of 2021)
Mentor: Dr. Rami Nazarian
Abstract Title: Discover Your Pathway: Student Experiences in Academic Dentistry—Short Talks Presentation

Michaela Wiseman (Dental Class of 2021)
Mentor: Dr. Junu Ojha, Integrated Biomedical Sciences
Abstract Title: Students' Preferred Knowledge Assessment Method – A Survey- Based Study