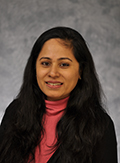 Deepthy Nair, a clinical associate professor at University of Detroit Mercy's School of Dentistry has been named, the 2020 American Dental Education Association's (ADEA) Enid A. Neidle Scholar-in-Residence.
Nair is an assistant professor of oral and maxillofacial surgery, biomedical sciences and clinical dentistry. She also serves as a mentor to dental students. Nair received her Bachelor's degree in Dental Surgery from Bangalore University, India and Master of Science in Oral and Maxillofacial Surgery from the National University of Singapore.
The scholar-in-residence recipient receives a stipend OF up to $15,000 to pursue a cumulative two- to three-month fellowship at the ADEA Office in Washington, D.C. During the residency, the scholar will gain a distinct perspective on issues facing women faculty, including promotion, advancement and tenure policies, entry and re-entry into the workforce, child care and elder care, women's health, work patterns, advanced education and research opportunities and other gender-related issues. The scholar will be assigned to a senior ADEA staff member and will be involved in a range of ADEA activities in addition to her principal project.
The program honors Enid A. Neidle, former president of ADEA. Under her leadership, ADEA adopted its policy of promoting the advancement of women in dental education. It offers the opportunity for a dental educator to concentrate on issues affecting women faculty.