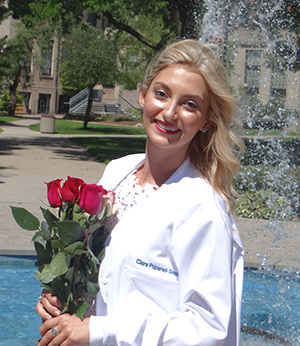 By: Clara Poparad-Stezar, DS3
I will never forget the wide-eyed looks of pre-dental students coming into the simulation lab and soaking in every second of their first experience as future dentists. As a first-time bench instructor in the Explorations in Dentistry (Explorations) program at Detroit Mercy Dental hosted by the Detroit Mercy Dental ADEA Chapter, I think the experience was as special for me as it was for the students.
Explorations is designed for undergraduate students pursuing dentistry, which includes several modules and specialty introductions to introduce them to dental education and the profession.
Explorations was founded in 2011 by the following alumni when they were students, Michael Vilag D.D.S.'13, Cole Smith, D.D.S.'13, Punit Shah, D.D.S.'13, Sarmad Askar, D.D.S.'13, Jenna Lau, D.D.S.'13, and Shagun Octain, D.D.S.'13.  Since then, it has been carefully crafted by dental students, administrators, and faculty, and polished into a successful and thriving resource for pre-dental students.  Each year it evolves and increases in participation.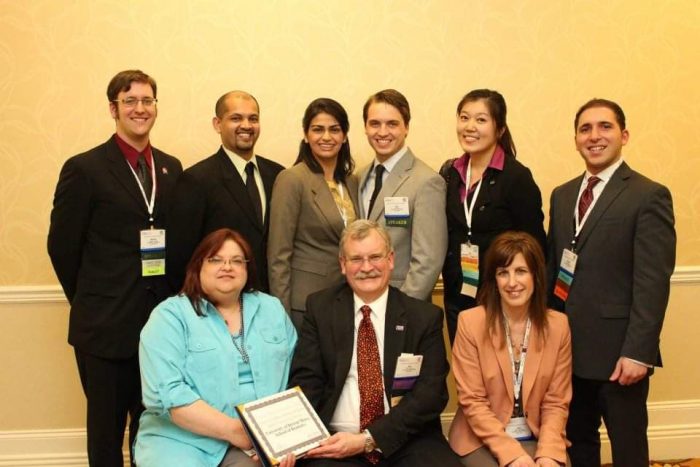 "The original goal was for incoming dental applicants to learn what they were getting into," Vilag explains. "We wanted to give applicants something else to add to their applications to make them stand out. Once they took the workshop and saw how cool dentistry was, they were hooked and motivated to get in. It was also beneficial to us as current students because we learned how to develop a class and then lesson plan for it."
The program was designed by Michelle Wheater, Ph.D, assistant dean of Research and Scholarly Achievement, director of the Division of Biomedical Sciences.  Her expertise and passion for the program has helped it thrive and become more successful with each passing year.
Kathi Shepherd, R.D.H. '82, M.S. '95, assistant dean of Educational Development and Assessment, helps guide students in lesson planning, selecting educational methods, and constructing a module to present to their students.
Rami Nazarian, D.D.S.'17, a veteran to the program, returns for the second year in the role of supervising faculty.  As a former student who participated in Explorations, Nazarian has evolved through all positions including bench instructor, module leader, and program director in his senior year. Nazarian brings expertise in education and private practice in an interactive interface for dental and pre-dental students.
Jonathan Zora, DS4, is a liaison between students and faculty as the program coordinator and director on the student end. He sets-up and manages the groups of pre-dental students, bench instructors, and coordinates all the educational aspects of the program.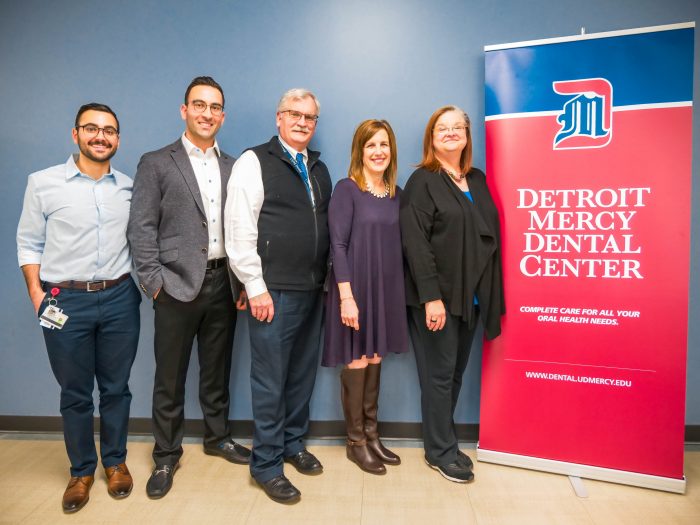 With every session, pre-dental students arrive at 6:15 p.m.  After a brief introduction to the topic and a presentation given by the module leader, the pre-dentals head to the simulation lab, cadaver lab, or clinic to apply the concepts they learned that day. In the lab, bench instructors provide feedback, demonstrate various techniques, and guide the activity for the evening while the aspiring pre-dentals immerse themselves in the world of dentistry. At the end of the session, the pre-dental is evaluated by a set of predetermined basic criteria on a pass/fail basis.
Countless hours and rigor go into making the operation run smoothly. From June to September, dental student "faculty" in Explorations in Dentistry meet weekly to establish the framework of the program and to decide what material will make the cut. Student instructors learn how to set learning objectives and execute teaching goals in a timely and efficient manner while exploring their own futures in pedagogy.
This year, the program comprised of eight modules, (increasing from six in the past), and an evening certification ceremony to recognize the participants. Learning topics included capturing alginate impression, dental anatomy and tooth waxing, radiographic interpretation and mounting, caries removal and direct restorations, cadaver anesthesia, extraction of teeth on bovine mandibles, socket preservation in periodontics, and root canal treatment of tooth number 8.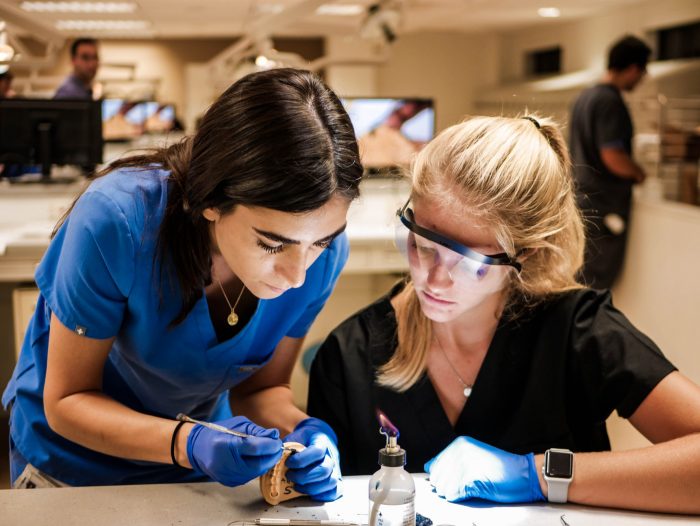 Pre-dental students were particularly intrigued by the ability to practice extractions on real tissues and the opportunity to feel, as one student noted, "… like a real dentist."
At the beginning of the program, a pre-assessment is administered consisting of 16 questions pertaining to essential clinical knowledge that would be later taught with each module. At the end of the program, pre-dentals are given the same exam and the scores are contrasted to evaluate the educational value of the teaching sessions. The data collected is quantified to further improve the outcomes for future programming.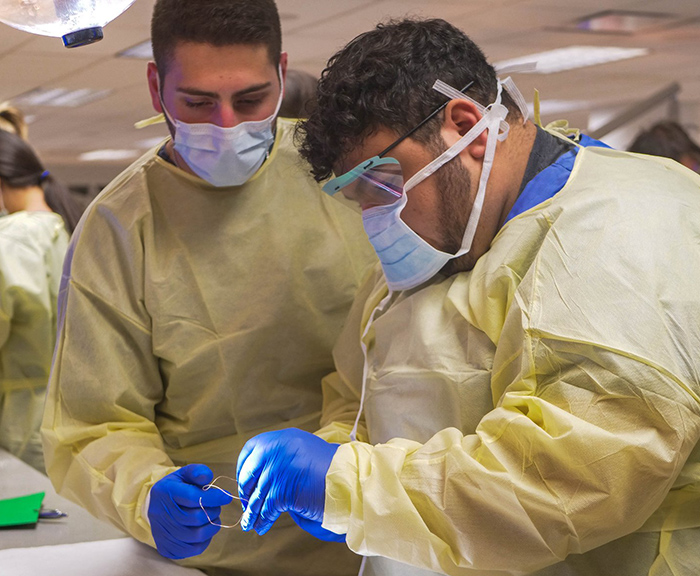 Lena Akkad, DS3, reflects on her experience for the second year with the program, "Being a bench instructor in Explorations makes me regret not being able to sign up for it as a pre-dental student."
Reflecting on the past couple months and my journey through Explorations in Dentistry, it has been a tremendously enriching experience and something I would like to be a part of in the coming years.  It really influences students' perception of dentistry and is a testament to the knowledge I've acquired throughout dental school.
This program allows pre-dental students to gain a good sense of the versatility, challenges, and complexity of this profession. With a symbolic presentation of many subspecialties and avenues that the field can offer, prospective students on the fence about a career choice, as well as those who want more hands-on experience, can be guided by passionate current students who may eventually serve as future mentors.