Everyday, there are special achievements and newsworthy headlines happening at the School of Dentistry. In effort to give proper acknowledgement and share these successes, please tune in for the monthly Dean's High 5 as we acknowledge those responsible for the top 5 stories happening at Detroit Mercy Dental.
Congratulations on your hard work – you make Detroit Mercy the place to lead and learn.
Dr. Zheng Zhou invited to speak at annual conference in China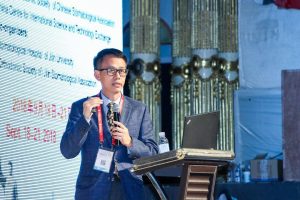 For the third consecutive year, Associate Professor, Zheng Zhou, D.D.S., Ph.D., was invited by China Society of Stomatology and China Orthodontics Society as a guest speaker to present at the 2018 International Orthodontic Conference and 17th Annual Meeting of Chinese
Orthodontic Society. The conference took place in Changchun, China during the dates of Sept. 18-21. This year, Zhou's presentation was titled "Periodontal Risks Assessment for Orthodontist in the Digital Age."
Administrators present at ADEA Fall Meeting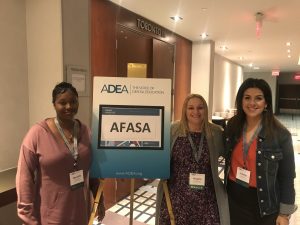 Detroit Mercy Dental had a strong presence at the ADEA Fall Meeting in Toronto.  We had three invited presentations which spanned topics including admissions, student affairs and services, and best practices in student conduct. The following administrators represented us, each sharing their expertise with other dental schools throughout North America:
Juliette Daniels, assistant dean for Student Services & Enrollment Management, "Title IX: Best Practices for Dental Education"
Danielle Harris, coordinator for Admissions Services, "Admissions Ambassadors at Detroit Mercy Dental"
Angela Orlando, Financial Aid Coordinator, "A Fresh Look on Financial Literacy"
Detroit Mercy Dental Center goes PINK, raises funds for Breast Cancer Research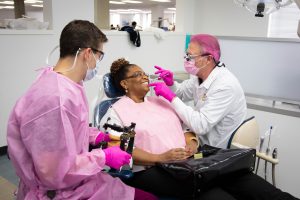 Faculty, staff, and students looked pretty in pink for a week in October, wearing pink masks, gloves and bibs in honor of Breast Cancer Awareness Month. Students raised more than $1,700 for the Breast Cancer Research Foundation. To celebrate, faculty wore their hair pink for a day. It was a fun and festive week for a wonderful cause. Patients loved the enthusiasm and goodwill filling the clinic.
The fundraiser was hosted by Delta Sigma Delta. Special thanks to Genna Ramey, DS3, for leading the event.
Volunteers represent Detroit Mercy Dental at annual Men's Health Event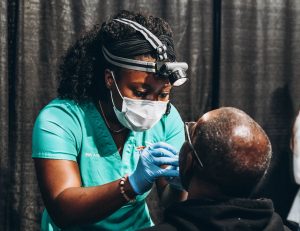 Since 2009, the School of Dentistry has partnered with the MIU-Men's Health Foundation to perform oral cancer screenings for attendees at their annual event at Ford Field. On Sept. 30, more than 100 faculty, student and resident volunteers provided oral health instruction, tobacco cessation information, and oral cancer screenings to attendees. Of the 392 individuals screened, one was referred for a biopsy and one was referred to a dermatologist. Special thanks to Laura Wright, Mobile Programs Coordinator, who has organized the event the past five years.
Students and residents make annual visit to Downtown Detroit Boxing Gym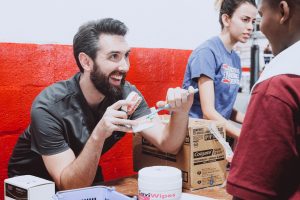 A highlight of each year is providing mouth guards to athletes at the Downtown Detroit Boxing Gym. Detroit Mercy ASDA and AEGD residents team-up to make this event possible, each taking on important responsibilities. ASDA members screen the youth and help residents take impressions. AEGD residents make all mouthguards – they trim, polish and deliver them to the athletes. We especially thank Maria Niedek, chairside assistant, who pours all impressions to make sure mouth guards can be made.