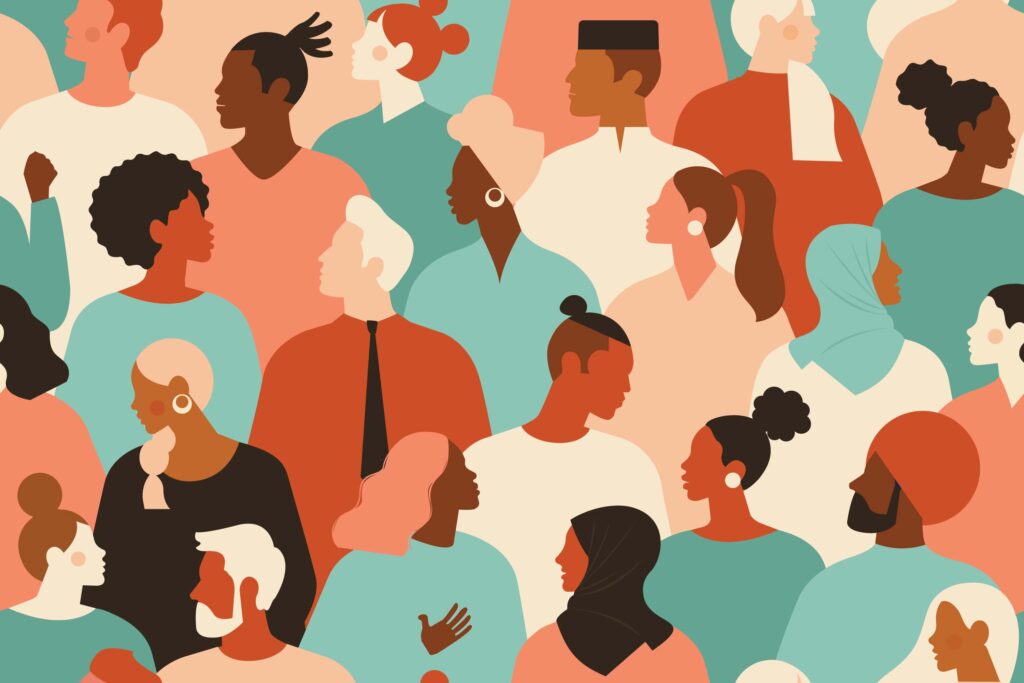 DIVERSITY noun
di· ver· si· ty | \ də-ˈvər-sə-tē , dī- \
Definition of diversity
1: the condition of having or being composed of differing elements: VARIETY especially: the inclusion of people of different races cultures, etc. in a group or organization
INCLUSION noun
in· clu· sion | \ in-ˈklü-zhən \
Definition of inclusion
1: the act of including : the state of being included
2: the act or practice of including students with disabilities with the general student population
3: the act or practice of including and accommodating people who have historically been excluded (as because of their race, gender, sexuality, or ability)
Dental care remains underutilized or inaccessible to communities of color— largely due to historical disenfranchisement and discrimination. Today, one in five people of color report experiencing racism or discrimination in a health care setting. As a result, many have poor oral health and higher rates of periodontal disease and tooth decay, which can lead to tooth loss and other health issues.
Better representation in the oral health field can help address this crisis. Evidence suggests patients of color receive better care from—and establish greater trust with— providers who look like they do. There's just one problem: There aren't enough of those providers to go around. Despite accounting for more than one-third of the U.S. population, fewer than 10 percent of dentists are Black, Hispanic, or Indigenous.
"As a Catholic institution with Jesuit and Mercy sponsors, we understand the issues of social justice and equity and the importance of building a diverse oral health workforce as part of improving access to care and patient compliance within marginalized populations," said Dr. Mert N. Aksu, Dean, University of Detroit Mercy School of Dentistry. "We see firsthand the impact of connecting patients with providers who have the ability to relate in a way that overcomes cultural and social barriers and improves care outcomes."
Detroit Mercy Dental is dedicated to encouraging and recruiting underrepresented populations for careers in dentistry and oral health. We do this through a variety of invaluable academic enrichment opportunities and pipeline programs. Our experiential programs vary widely in nature, all with the common goal of helping interested candidates successfully apply to dental school. We focus on improving science aptitude and enhancing academic skills, but also offer firsthand exposure to the profession and research experiences.
---
"We see firsthand the impact of connecting patients with providers who have the ability to relate in a way that overcomes cultural and social barriers."
---
Despite the challenges, Coordinator of Diversity and Inclusion Programs Bethsave Lozano, was determined to continue to provide educational and professional experiences for underrepresented minorities and disadvantaged students so they can successfully gain admission into dental school and pursue a career in dentistry through the Summer Enrichment Program (SEP). This year's SEP went virtual, but is still engaging students with robust hands-on experiences, information and support.
Since its inception in 2012, the Office of Diversity and Inclusion has worked with 186 SEP students and has seen many of them gain acceptance to Detroit Mercy Dental as well as other dental schools.
The Delta Dental Foundation (DDF) is awarding four $25,000 scholarships annually to students from systemically underrepresented racial and ethnic backgrounds enrolling in University of Detroit Mercy School of Dentistry along with three additional universities.
"Financial concerns are one reason many prospective dental students bow out," said Holli Seabury, Ed.D., executive director of the DDF. "Our hope is that by providing upfront financial support, the Diversity Dental Student Scholarship will encourage more students to take that leap."
For more information about the Diversity Dental Student Scholarship, see https://bit.ly/3Dx97jx.