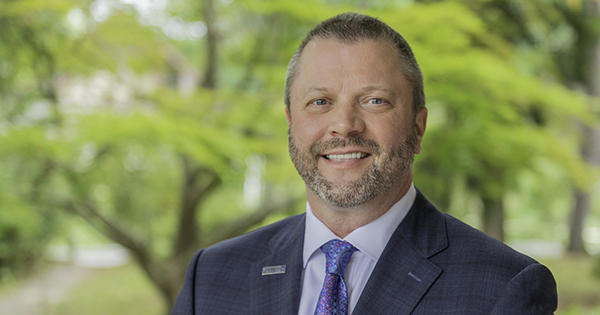 University of Detroit Mercy's Board of Trustees today announces that Donald B. Taylor, Ph.D., has been named the institution's 26th president.
He succeeds Antoine M. Garibaldi, Ph.D., who concludes his presidency on June 30, 2022, and will remain at the University to focus on research and teaching, beginning in 2023.
"On behalf of the entire Detroit Mercy community, we are pleased to welcome Dr. Taylor to our University and look forward to his leadership as we build on the momentum of the past decade and set new goals for the institution," said Michael T. McNamara, chairman of the University Board of Trustees and president of Hollingsworth LLC. "Dr. Taylor's accomplishments and extraordinary experience demonstrate a commitment to excellence that fits well with Detroit Mercy's vision and mission, and we are confident that he will help the University achieve an even brighter future."
Taylor brings nearly three decades of higher education leadership in the areas of program development, accreditation, alumni relations, community partnership development, corporate and philanthropic fundraising success and commitment to adult/post-traditional students, international/global and online education, following decades as a researcher and educator at Catholic institutions.
"It is a great honor and I am humbled to be selected to serve as the next president of one of the great Catholic Universities in our nation at this time in its institutional history, building from the tremendous success and momentum of President Garibaldi's long tenure at Detroit Mercy," Taylor said. "In partnership with an engaged Board of Trustees, the Jesuits, Sisters of Mercy, faculty, staff, students, alumni, and the greater Detroit metropolitan community, we look forward to leading Detroit Mercy to become the best comprehensive Catholic University in the Midwest," he added.
Since 2014, he has served as president of Cabrini University, a private Roman Catholic University in Radnor Township, Penn., near Philadelphia, that provides undergraduate, graduate and post-graduate degree programs to more than 2,000 students. During Taylor's tenure as president, Cabrini ranked among the top 40 Most Transformative Colleges in the nation by Money Magazine based on the institution's "value add," an indicator to showcase schools whose alumni report high levels of success. In 2019, the University was also ranked as one of the Best Northern Universities by U.S. News & World Report's "Best Colleges Edition."
During his leadership, Taylor's many accomplishments as president include:
Earning successful 10-year reaccreditation by Middle States.
Transitioning the University from a College to a University in 2016.
Significantly increased brand awareness of the University in the greater Philadelphia area.
Creation of four distinct schools in the University, each headed by a dean: School of Education; School of Business, Arts, and Media; School of Humanities and Social Sciences; and School of Natural Sciences and Allied Health.
Creation of four academic centers of excellence at the University: Center on Immigration; Center on Urban Education, Equity, and Improvement; Center on Domestic Violence & Early Childhood Education; and the Center on Global Business.
Securing donor funding for the Center for Immigration and Center for Domestic Violence and Early Childhood Trauma.
Securing a partnership for Cabrini to become the Commonwealth of Pennsylvania's first college partner with TheDream.US, an initiative that provides scholarship support for DACA students.
Introducing the Cabrini 2020 Roadmap to Growth Strategic Plan and the Cabrini Promise. Created educational pathways for students to attend Cabrini by establishing nearly two dozen partnerships with K–12 schools (dual credit), institutions of higher education (4+1 degrees), and educational non-profits across the region, the nation, and the world.
Introducing Cabrini's first two doctoral programs, Educational Leadership (Ed.D.) and Organizational Development (Ph.D.).
Prior to his appointment as president at Cabrini, Taylor was provost and vice president for Academic Affairs at Benedictine University in Lisle, Ill, near Chicago, from 2008-14. During his time at Benedictine, he also served as the inaugural dean of the College of Science, as well as chair of the Department of Biological Sciences, and program director for the Biochemistry and Molecular Biology Program. He joined the Benedictine faculty in 1992, and in 1997 earned recognition as the Scholl Endowed Chair in the Health Sciences. Additionally, he has received research fellowship support during his career from the Van Vleet Cancer Foundation. Taylor earned a Bachelor of Science Degree in Education and a Ph.D. in Cell and Molecular Biology from the University of Memphis.
Taylor joins Detroit Mercy at an exceptional time in the University's history. In 2022, the University was again ranked among the top 200 national universities by U.S. News & World Report for a third year in a row, earning a No. 187 rank in the National Universities category of the publication's "Best Colleges" 2022 edition. The University is the highest ranked private university in Michigan and one of four in the state to be included in the National Universities category. Detroit Mercy also ranked among the top universities nationwide in The Wall Street Journal's (WSJ) 2022 Times Higher Education (THE) college rankings, earning a 202 rank out of 786 institutions. In 2021, the University broke ground on the McNichols Campus Renovation Project, which repositions Detroit Mercy for the future and serves as a model of efficiency and sustainability for peer institutions in U.S. cities. Finally, in December 2019, the University concluded its Campaign for University of Detroit Mercy, raising nearly $115 million in this record-breaking effort.
Taylor was selected as president following a national search conducted by the Detroit Mercy Presidential Search Committee. This committee, which was chaired by Trustee Emil J. Brolick '69, '72, retired president and chief executive officer of The Wendy's Company, was comprised of faculty, staff and trustees. The University also partnered with Isaacson, Miller, a national executive search firm, to identify Taylor as the organization's new president.
"I want to express our sincere thanks to our search committee and search partners, Isaacson, Miller, for their diligence and commitment to find our next leader," McNamara said. "I also want to thank our faculty, staff, students and community for their input and patience through this process. I hope everyone is as excited as I am to welcome Dr. Taylor to our Detroit Mercy family," he added.
Taylor and his family will relocate to Detroit in the near future. His presidency will begin on July 1, 2022.