Retired U.S. Navy Cmdr. Lynn Baughman, 73, drives from Centerline, Mich., to receive treatment at Detroit Mercy Dental Center. He has been since 2006.
Since he was three years old, Baughman knew he wanted to fly an aircraft. He enlisted in the Army after high school for their flight program.  After receiving his wings, he flew helicopters in Vietnam and served as an instructor pilot stateside. In college, he rushed the Navy for its flight program and continued to serve as a fighter pilot in Desert Storm. He describes these experiences as the most challenging, demanding and focused experiences of his life. He understands the intense value of routine. He knows how important it is to train.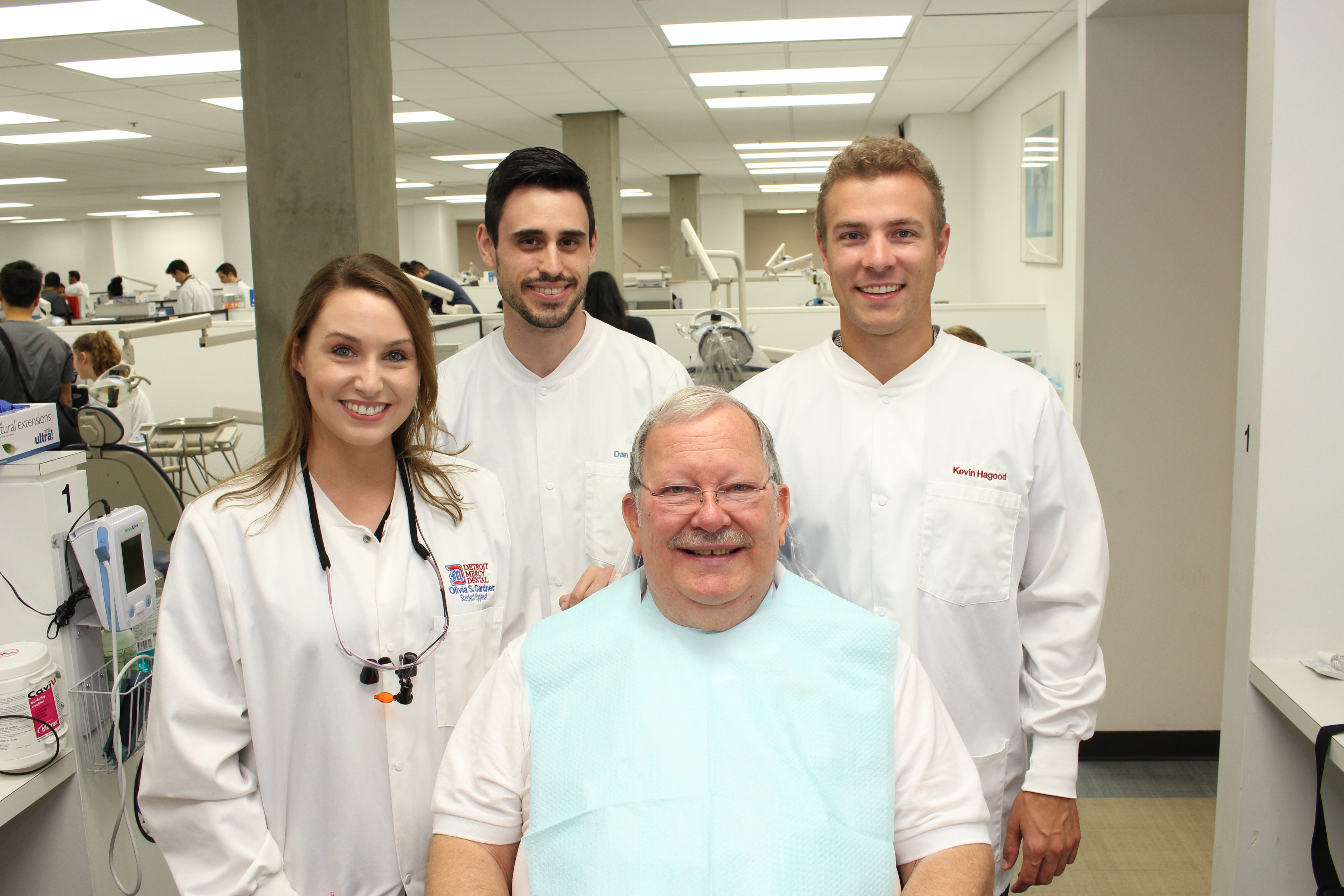 "The training may be different, but the end goal is the same: perfection," he said. "There is no margin for error when you are in combat, and there is no margin for error when these students move onto practicing professionally. At the School of Dentistry, you are producing effective, passionate, professional health care providers. I see it reinforced at my dental visits all the time. I am honored to help these students achieve their goals."
After retiring from a 26-year career, his retirement plan did not include dental insurance. A friend referred him to the School of Dentistry, so he decided to give it a chance. "If it's a dental student, they have to be monitored like a hand in a glove – I figured I'll take a shot and we'll see how it goes," said Baughman.
Turns out, the experience was better than expected.  In fact, he finds coming to Detroit Mercy Dental Center quite enjoyable!
He loves the energy of a learning environment and being around focused students and devoted faculty.  "The interaction between students and instructors is wonderful," he explained. "When I ask a question, I get a thorough explanation from students and faculty about treatment and why it is being done."
He jokes, "Now I know how to speak Dental. I can tell you the difference between mesial, lingual, between buccal and distal! They do everything but bring out the white board and draw me a diagram." 
Not only does a scientific explanation help him to better take care of his teeth, but it builds trust in his provider.
"My dental hygienist recommended an electric toothbrush for me, and I rushed out and got one. Now I'm brushing four times a day with that thing," he said.
Over the years, Baughman has been a patient of countless student providers, explaining, "I really enjoy my dental students. I consider them friends. It's bittersweet when we have our last meeting."
But departures have become easier for him since the new clinic model was adopted in 2017. Now that third- and fourth-year dental students work in pairs, there is continuity in changing over to a new provider. He already trusts and is confident in his new fourth-year student because they have been working together for a year prior to the transition.
As far as the actual dental treatment has been, "…it's as good as any care I've had in my life! I tell everyone I know about Detroit Mercy Dental Center!"