The movie Hidden Figures tells the untold story of Katherine G. Johnson, Dorothy Vaughan and Mary Jackson who were brilliant African-American women working at NASA, serving as the brains behind one of the greatest operations in history: the launch of astronaut John Glenn into orbit. These three women inspired the nation because they crossed all gender and race lines, moving generations to dream big and to never give up on their goals.
This movie inspired our Office of Diversity and Inclusion and had us thinking about all the other "hidden figures" that exist in and around our own community, as well. In honor of Black History Month, throughout February, we will feature our own "hidden figures" here at Detroit Mercy Dental:
Dana Hart, M.A.
Assistant to the Dean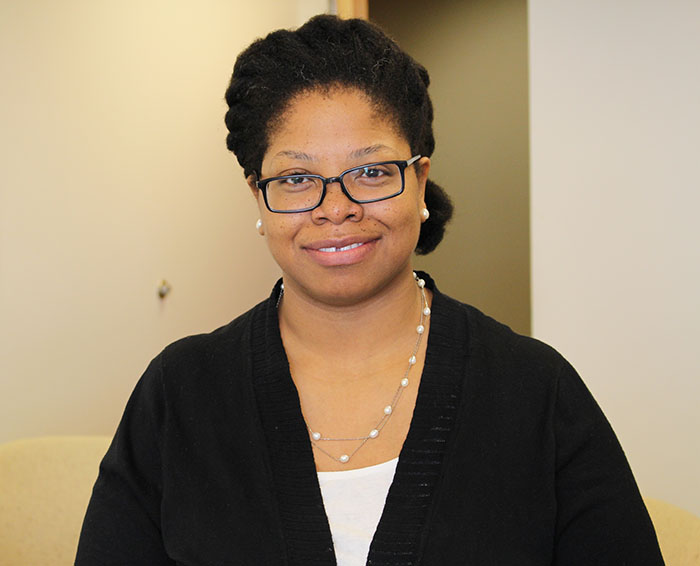 What is your role at the School?
My role as Assistant to the Dean is to support for the dean and serve as a resource for faculty and staff.
What kinds of activities are you involved in outside of work?
I am currently serving a second term as a precinct delegate in Detroit. In this role, I serve as a liaison between the community and our elected officials. I also serve as chair of the board for the North End Christian Community Development Corporation. We manage the Oakland Avenue Urban Farm and Farmer's Market, which just received a half-million dollar grant to create a farm-way in the North End of Detroit. We are also traveling to France and Switzerland to observe how people in different countries develop farm-ways and operate sustainably.
What accomplishments are you most proud of?
I think that I would have to say the work with my daughter. With her being deaf and going to school in Detroit, I had to fight for her to get a good education. That is what really got me into justice work, because I had to fight so hard for her. Her uniqueness taught me how to set aside my emotions as a mother and use the law to become her advocate.  I think that's what really opened the door for me to be involved in justice work, in general. If anything, I would say that would be one of the accomplishments of which I am most proud.
What drives you in your work both inside and outside of the school?
Here at work, I think just being helpful to people. Sometimes it can be frustrating, because at times I have a pretty full plate to and it might take me longer than I'd like to get things done for folks, but really what drives me is helping people and being of service.  In the community, I am also driven by being of service to people especially in the area of justice. You know I hate to see anything that I deem to be unfair or unjust. Especially to people that might not have a voice, like children.
Who has influenced you the most?
I would have to say Maya Angelou, because she was so wise and so expressive and she was never afraid to tell her truth. The way that she expressed it was — I mean I don't even know if I have a word for it but she would be the one that I would love to sit at her feet and just learn from. She has been, and definitely continues to be, a huge influence.
How and where do you find inspiration?
I find it in the good that people do. I find it in people's ability to be genuine and human towards one another. How I find it? I think that sometimes we have to glean that from the simplest of actions and interactions with each other. I don't think we look at people who we don't value in society; it's almost like they are invisible, but I really think that that is where you can find the most genuineness. There was this thing I saw on Facebook, an experiment, there was a young boy who didn't have any warm clothes and people were just walking past him. It was a homeless guy that came up to him and gave him his coat. It was cold out and nobody stopped and this was a child!  It was a homeless man who took off his coat and hat and started talking to the little boy. But he was the one that was giving of himself, the person that you would think did not have anything to give, but that's the genuineness I think that we need to find. The simplest actions that people can do to express humanity and recognize humanity in one another, that is where I find inspiration.
What advice would you give to someone who wants to get involved in their community but doesn't quite know how?
Find your passion. Think of a situation that infuriates you when you see this thing happening and you feel like it's not right or you feel like it could be better; what is that thing? I mean, because there are a lot of things that we could be interested in, but they're not really what drive us. What makes heat come out your ears when you think about it? Those are the things that are going to energize you. Sometimes you're going to work tirelessly for a cause and you're eventually going to feel like, "This is going nowhere," but these are the things that you're not going to want to quit or give up on. Ask your friends what they are involved in. They may not be involved in the same issues that interest you, but they may know people who are. Reach out to those in your network, or search via volunteermatch.org. Also, don't be afraid to consider starting something on your own. Listen to the advice of others, because that is very valuable, but more importantly, listen to yourself.