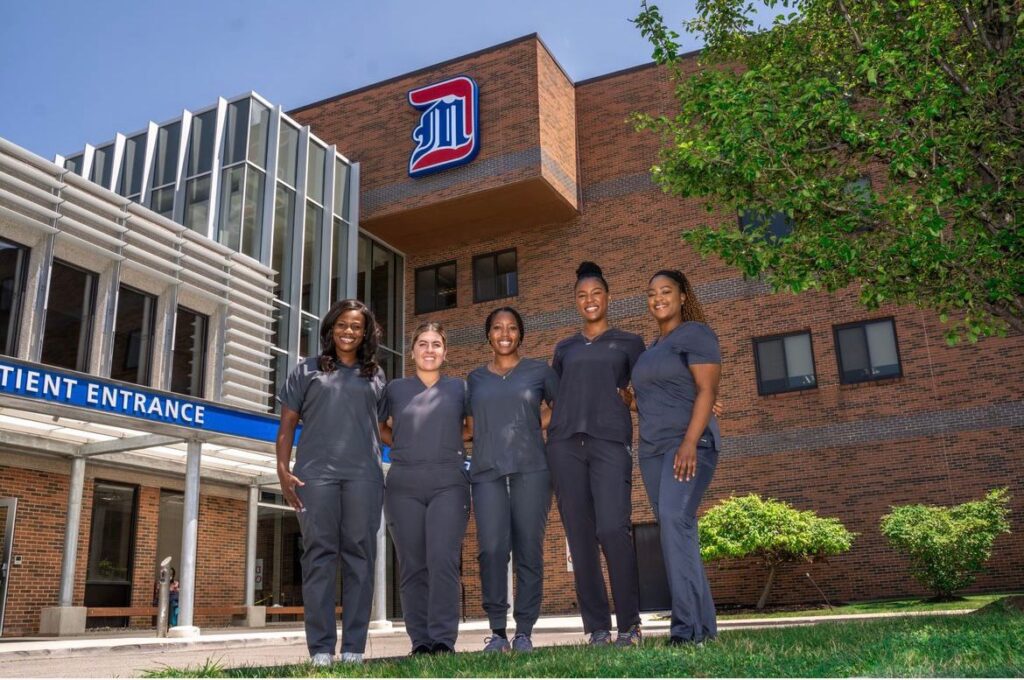 The Detroit Mercy Dental 2021-2022, Student Government Association (SGA) Executive Board has made history at the school, with its first-ever all minority female officers. "I am grateful to be a part of such a remarkable team within an outstanding organization like SGA. The atmosphere we have created encompasses not only inclusion for the student body, but also efficiency", says President Twila Hudley, class of 2022.
The role of SGA is to encourage the involvement of dental and dental hygiene students, faculty, and staff at the School of Dentistry, while fostering an environment of unity. Secretary, Edie Gibson, class of 2024 shares, "In order for any institution to truly promote diversity, bodies of leadership must also reflect the voices of minority populations. As the profession of dentistry reaches a pivotal point in history with the majority of accepted students shifting from men to women, Detroit Mercy Dental has distinguished herself as adaptable to the current trends and supportive of this monumental development."
SGA cultivates student leadership and acts as a reservoir for funding and event planning. The executive board has sponsored many student and school-wide events such as the upcoming Mandiball Dinner Dance (which this year, has sold the highest ticket sales since 2019) and the much-beloved Boat Cruise. "It is exciting to be included in this historic SGA board of all minority women. It showcases the field of dentistry as diversifying, we are the faces of the future.", says Vice President Taylor Johnson, class of 2023.
To say this historic group of leaders are beaming with pride would be an understatement. "The importance of a minority SGA is for the intent of reflecting diversity to the entire student body population. This group allows students (especially minorities) to feel a sense of comfort and security." says Dental Hygiene Representative, Nesila Bilica, class of 2022.
Treasurer Ja'Nay Jones, class of 2024 shares similar sentiments, "The importance of having our minority SGA is to ensure minority students and their organizations are represented and have active involvement within the campus. To provide different viewpoints from various backgrounds and show that we can effectively produce an inclusive, positive environment for all."
The School of Dentistry is proud of the steps our student body continues to take to promote diversity and equality. The future of dentistry is in good hands.