Often dentists and dental hygienists choose to enter private practice, but there are plenty other career pathways available to today's oral health professional. Many of our alumni have pursued nontraditional options each finding success in doing so. We share with you several of their stories, as they prove you most can certainly go your own way…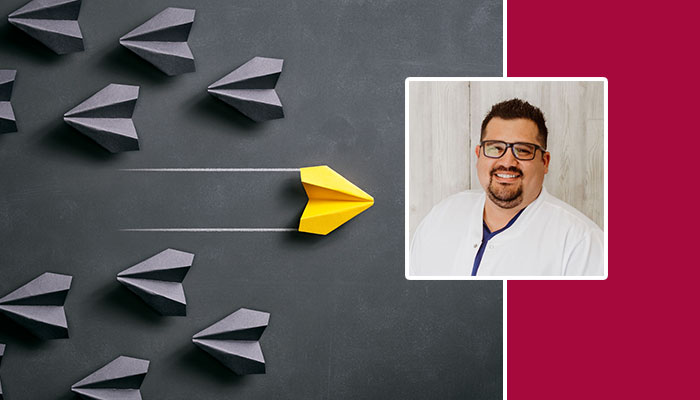 Out of admiration of his childhood dentist, Joe W. Nieto, D.D.S. '05 felt drawn to dentistry. The more he learned how much he could help people as a dentist, the more he wanted to become one.
Growing up in Los Angeles, he was exposed to diverse communities and a wide range of socioeconomic statuses. His parents worked for the city, his mother in employee benefits, his stepfather was a policeman, and father did print work. Nieto recognized disparity at a young age and as a dentist, he knew he could address a need. This made him work hard during school years.
"Public Health was always a priority to me," Nieto said. "Going into dental school, I knew that it was the route I would pursue."
During his fourth year of dental school, he learned about Indian Health Services (IHS) from a classmate who participated in an IHS externship. She enjoyed the experience and encouraged him to research IHS career opportunities. He did just that, and before he knew it, Nieto was on his way to practice on the Yakama Reservation in rural Washington.
The Indian Health Service (IHS) is the health care system for federally recognized American Indian and Alaska Natives in the United States.
Most patients come from a high level of poverty and have a great need for dental care.
"The work is overwhelming and rewarding as ever," Nieto said. "Patients need an incredible amount of treatment but are genuinely appreciative. Knowing I made a difference is the best feeling to have at the end of each day."
It has now been 14 years learning the culture and people and gaining their trust. He has no plans to explore other options, saying, "I will probably stay with IHS until retirement!"
To learn more about IHS, visit ihs.gov/dentistry.