At Detroit Mercy Dental, we pride ourselves in educating practice-ready graduates. It is a recurring talking point woven into conversations with prospective students and alumni, but they want to know just how prepared, how confident, are outgoing students; how ready are they for the real-world. Who better to answer these questions than one of our practice-ready graduates.
We asked alumna Jordan Hubbard, D.D.S. '17, about her preparedness as she left the comfort of our our campus, and what her education meant to her early career.  In her own words, here is what she has to say:
——————————————————–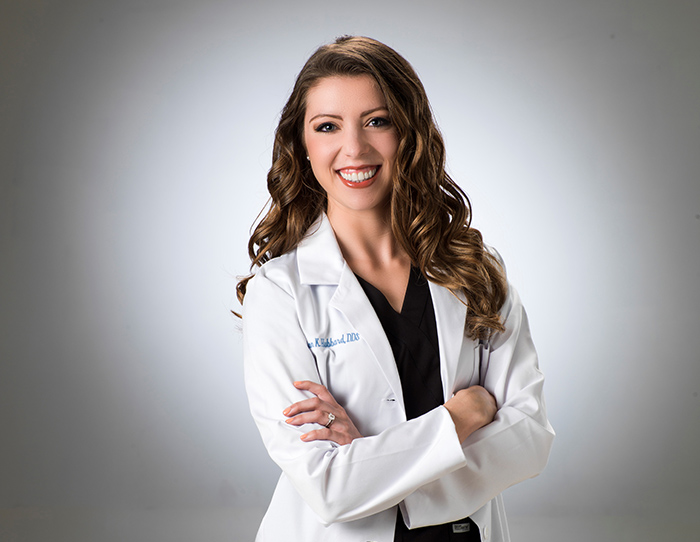 My name is Jordan Hubbard. I graduated in 2017 and immediately found a job in North Carolina, the place I call "home."
During spring break of my fourth year, I had seven interviews across North Carolina, and ultimately decided on a practice in Shelby. Shelby is a small, sweet, southern town in the western part of the state, halfway between Asheville and Charlotte. Some would say that our town is in the middle of nowhere. Shelby is one of those places where everyone says "y'all," and if you talk too fast, they'll ask you to slow down!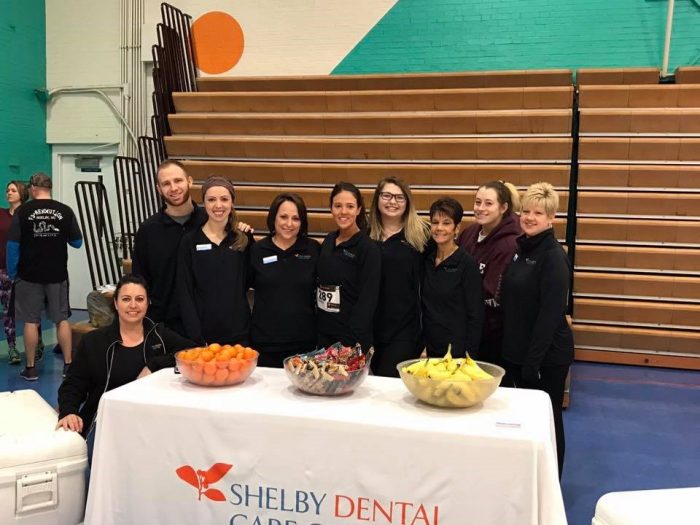 Moving south has been such a great change of pace, and practicing in a rural community has been so beneficial for me, as a clinician. I am in a practice with three other doctors and have been afforded great mentorship that has really helped me to tackle tough cases and grow in my abilities.
Because of the amazing mentorship I have from the other doctors at my office, my first few months of practice were a whirlwind. Not only that, but because we live in a rural community, the need for care is great and availability of specialists is slim. In a short time, I have learned to do many more advanced procedures like implant placement, orthodontics, gingival grafting, complex prosthodontic work, and I was even credentialed by the hospital to take my complex pediatric cases in for general anesthesia. It has been my own little "residency."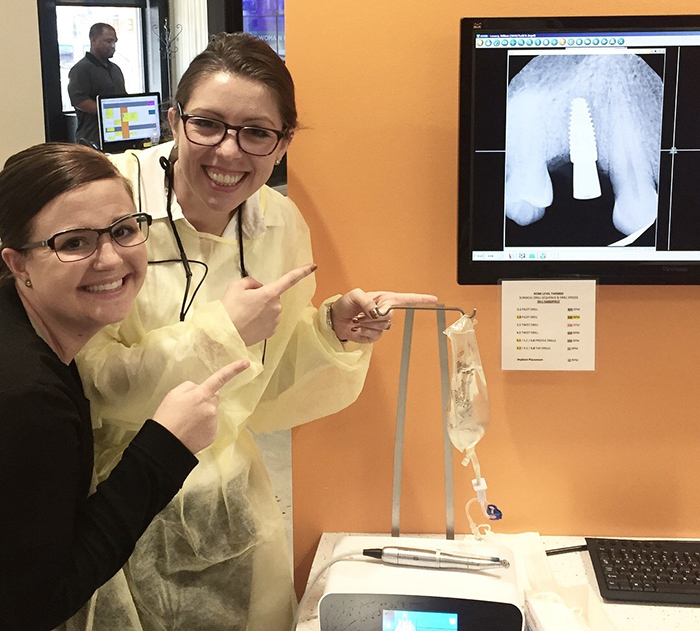 This, of course, would have never happened without the advanced training I received at Detroit Mercy. At school, I had access to a variety of specialists, and faculty members would share cases they had worked on.  When it was time to graduate, I felt ready to practice. And when I started my career, I felt confident learning and handling very specialized procedures.
Because of my practice location, and the great presence we have in our community, I was lucky to walk into a very full and fast-paced schedule. The offsite rotations I did during fourth-year helped me assess my speed, and I was thankful for the opportunity to pace myself in a "real world" setting; I was especially thankful for this when it came to my first few weeks of work.
When I started at my practice in Shelby, I worked at this pace, then added more patients and ramped up my production as I felt comfortable. I really do believe my ability to work at a faster speed during offsite rotations helped make my transition to the speed of private practice much more manageable. My confidence has soared since my first patient in clinic.
If not for the mentors I had in dental school, I would not have had the confidence to even begin to tackle tough cases in private practice.
Detroit Mercy Dental gave me an amazing foundation to really build upon and grow my skills.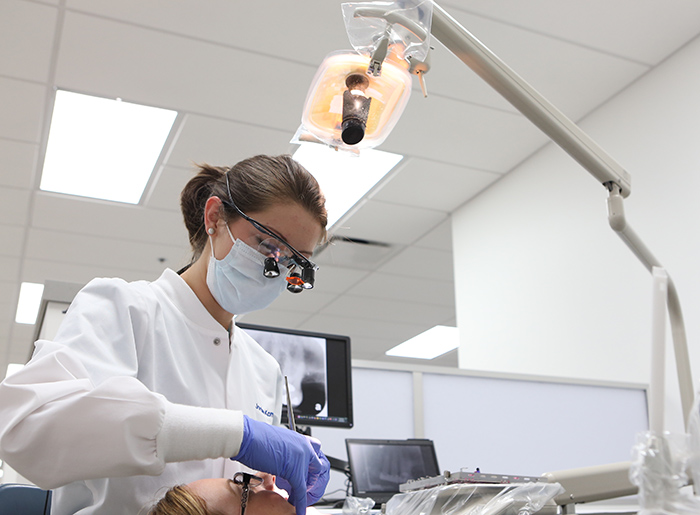 During my final year, as I was attempting my first post and core, I got some great advice from a trusted faculty member. I was so nervous for this case, and he could sense that. He looked at me, told me to breathe and to trust myself. He reminded me that everything I had done up until this point had prepared me for this procedure.
Those words really stuck with me, and when I get in those situations today, I remember the work I have put in and those who have helped shape me into the dentist I have become; I know that I have the knowledge and skillset behind me to back me up during any procedure I tackle.
While I have been so thankful for my opportunities here at my associateship, in the future, I envision my career path a bit differently. It was during my first year in practice that I was able to see what I love, and what I don't.
I have realized I can work at a fast pace, but I don't really want to. My goal is to work in a boutique-style practice. I enjoy sitting down and getting to know my patients. I also love to really educate them and explain to them their radiographs, intra-oral photos and what I'm seeing so that they can help diagnose themselves. When patients understand what they are looking at and what their options really are, it helps them to get on board with the procedures that are recommended, and that is when dentistry becomes fun!
What is so great about this career is that whatever you may be looking for, it's out there. There are many ways to practice, and different options are right for different people.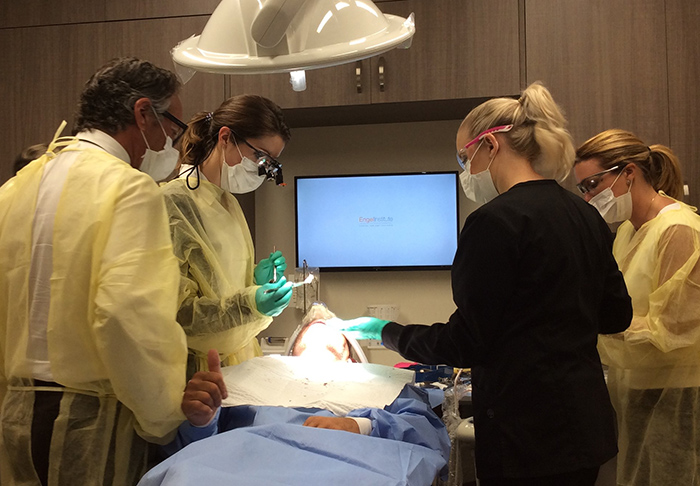 If I could give some advice to new graduates, or those who are about to graduate, it would be to find a great mentor and take as much Continuing Education as you can. It truly does make all the difference, and investing in yourself is key to becoming the dentist you have always dreamed of being.
I have a long way to go to become the dentist I've always desired to be, but thanks to Detroit Mercy Dental, my mentors and my first job, I know I am well on my way.
——————————————————–
This article was originally featured in the Fall/Winter 2018 edition of the Leading Edge. To read more stories like this one, click here.