Everyday, there are special achievements and newsworthy headlines happening at the School of Dentistry. In effort to give proper acknowledgement and share these successes, please tune in for the monthly Dean's High 5 as we acknowledge those responsible for the top 5 stories happening at Detroit Mercy Dental.
Congratulations on your hard work – you make Detroit Mercy the place to lead and learn.
Christina Fleugge, DS4, helps save a life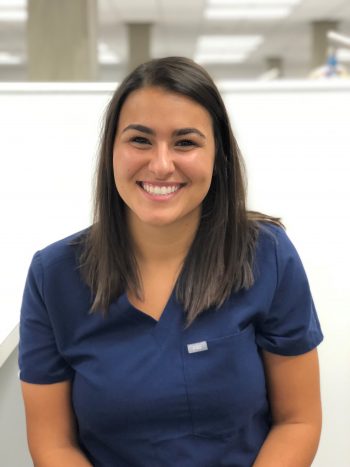 It was an eventful summer break for Christina Fleugge, DS4 who jumped into action when a family friend began choking during dinner. She attempted the Heimlich Maneuver several times, but when the victim stopped breathing, Fleugge began performing compressions until EMS arrived. EMS used a choking rescue device on the victim who is now back to health. Reflecting on the situation, she shared, "You never think you are actually going to be in that position, but then you are, and you just go for it. I reviewed all the protocols since and sent them to my friends, so they could feel more prepared if ever in a situation like that." We commend her heroic efforts and quick action under pressure, behaving like a true health professional.
Dr. Bassam Kinaia is recognized by American Academy of Periodontology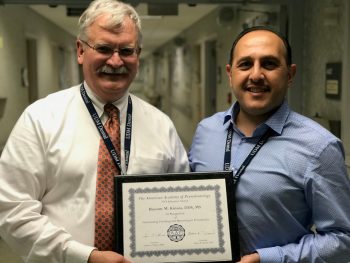 Congratulations to Bassam M. Kinaia, D.D.S. '99, M.S. '08, associate professor, director of Graduate Periodontics, who was awarded the 2018 Educator Award for Outstanding Teaching and Mentoring in Periodontics by the American Academy of Periodontology. This award is given the periodontal educator who has demonstrated a commitment to excellence in providing education in the full scope of clinical periodontics and relays that enthusiasm to students.
Dr. E.J. Newness earns Academy of General Dentistry Fellowship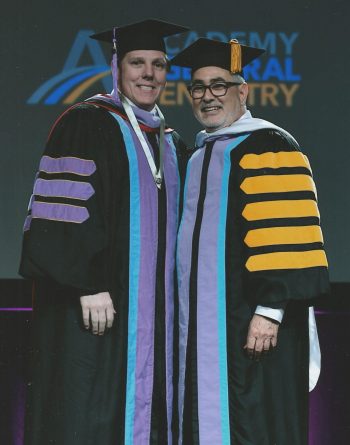 We are proud to announce E.J. Newness D.D.S., clinical assistant professor, became distinguished as a Fellow in the Academy of General Dentistry (AGD). A ceremony celebrated this achievement at the AGD Annual Session in New Orleans on June 9. There, Dr. Manuel A. Cordero, president of AGD, (photographed) congratulated the most recent Fellows.
Welcome the profession, Class of 2022!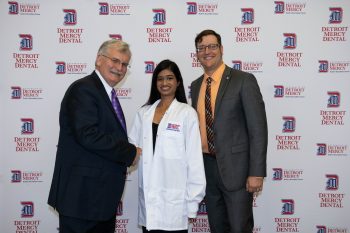 Our newest class of dental students officially joined us on August 13. Orientation Week included programming that introduced them to the University, School, and their role as students. Classmates got to know one another, and acquainted themselves with upperclassmen, faculty and staff at social events including a mixer at Bookie's Bar & Grill. The 2018 White Coat Ceremony ended the week, welcoming incoming dental and dental hygiene students to the profession. This year, Michael Silveus D.D.S., M.S., senior consultant for Academy of Academic Leadership, delivered the keynote speech and Michael Vilag D.D.S '13, president of the Alumni Board, led the recitation of the professional oath.
Sharpened instruments benefit providers and patients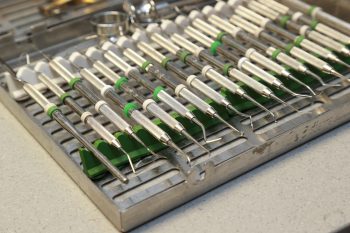 A team of eight instrument technicians from Hu-Friedy joined members of our dispensary team to inspect, sharpen, and repair all instruments and cassettes. Instruments unable to be repaired have been replaced. "We manage around 15,000 hand instruments that are in constant circulation, as thousands of patients are treated throughout the year," said Mary Yim, director of Clinic Materials Dispensing and Inventory Management. "The two weeks between summer and fall semesters are the perfect time for us to take stock of what we have and get everything in shape for the year ahead. Our providers and patients benefit from instruments that are sharp and in top condition."