The popular Oral Cancer Walk has returned to University of Detroit Mercy School of Dentistry after a four-year hiatus, bigger and better than before.
The Detroit Mercy Dental chapter of the Student National Dental Association (SNDA) held its once annual event on Sept. 15 with pre-walk events at the Riverfront Campus, and later a group walk in Detroit. The goal of the event was to raise awareness of oral cancer —  its causes, effects and impact on the community — and to promote early detection. Approximately 100 people attended the cost-free pre-walk health fair for the public.
Oral cancer survivor and Affiliate Professor Erik Hanby, D.D.S., shared his personal experience with the disease. Being a professional oral health care provider, himself, his story was unique and revealing, because this type of cancer can be easily disguised. His message accentuated the importance of early detection and regular screening.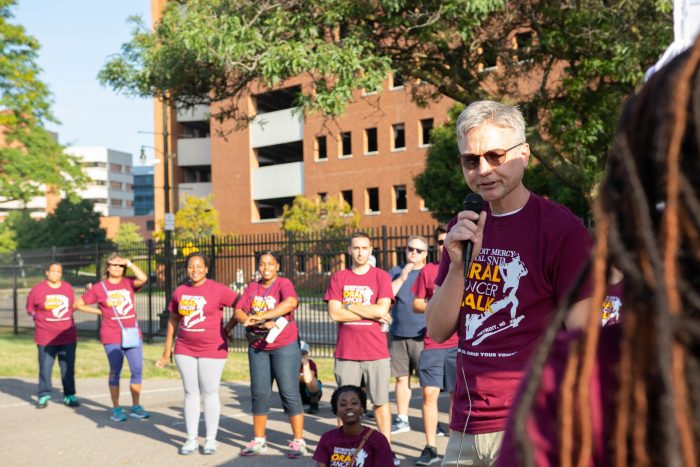 In addition to oral cancer screenings provided by dental and dental hygiene students and faculty, the pre-walk included demonstrations of proper brushing and flossing techniques, free flu shots from Walgreens, and breakfast donated by Tim Hortons and Detroit Institute of Bagels. Attendees received oral hygiene goodie bags and informational materials about oral cancer prevention and detection.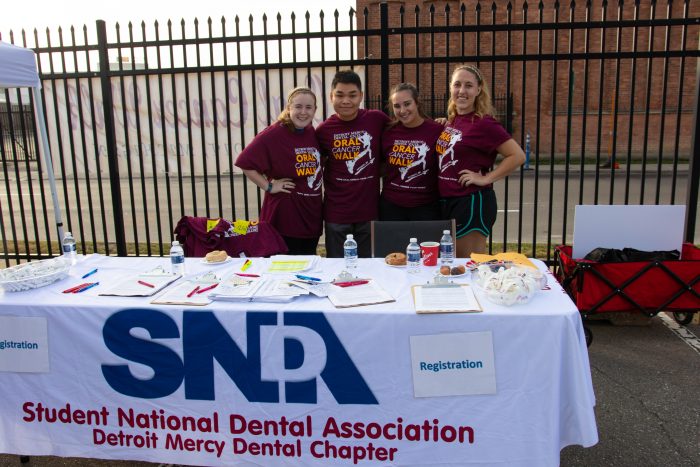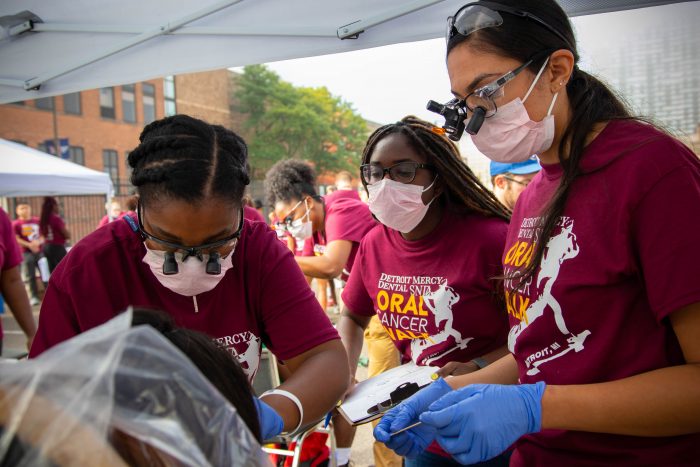 Of the 20 individuals screened for oral cancer, one person was referred for biopsy for a suspicious lesion.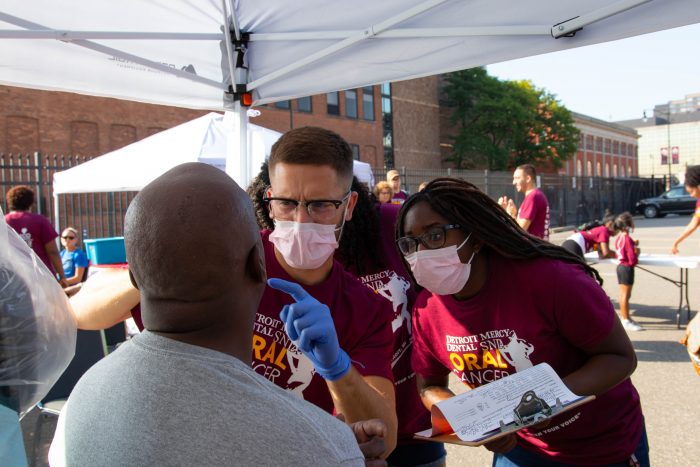 "It was truly remarkable to see how the SNDA and Oral Cancer Walk Committee put together such a wonderful event together," Halcyon Inniss D.D.S., affiliate professor and SNDA faculty advisor, said. "There was a lot of careful planning and coordination with the city of Detroit, School of Law, and various sponsors. It was a pleasure being a part of the event and I am excited for next year as I'm certain it will be even more excellent."
The event concluded with more than 60 students, faculty, staff and friends of the School walking one-and-a-half miles through downtown Detroit wearing matching shirts and carrying signs that spread their message.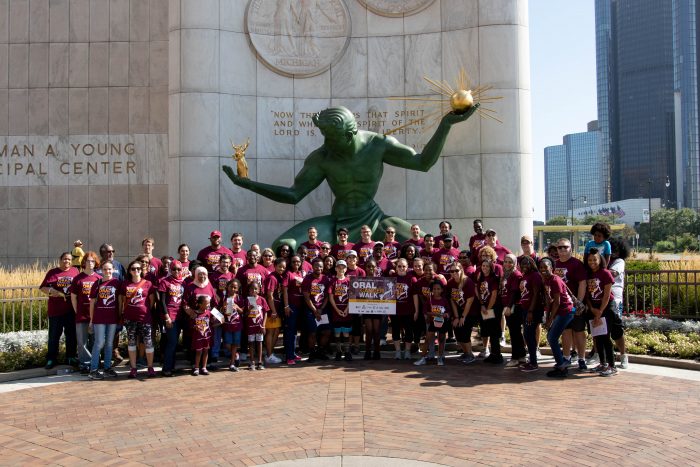 The SNDA raised more than $4,500 for the Detroit Mercy biopsy fund, which offsets the cost of biopsies for patients with positive oral cancer screens.
Aimee Yarde, DS2, SNDA Community Outreach Coordinator, led the planning committee of dental and dental hygiene students.
The event was sponsored by Detroit Mercy Dental, EcoAtlantic Ghana Ltd., Delta Dental Foundation, GSK, Colgate and Wolverine Dental Society, among others.