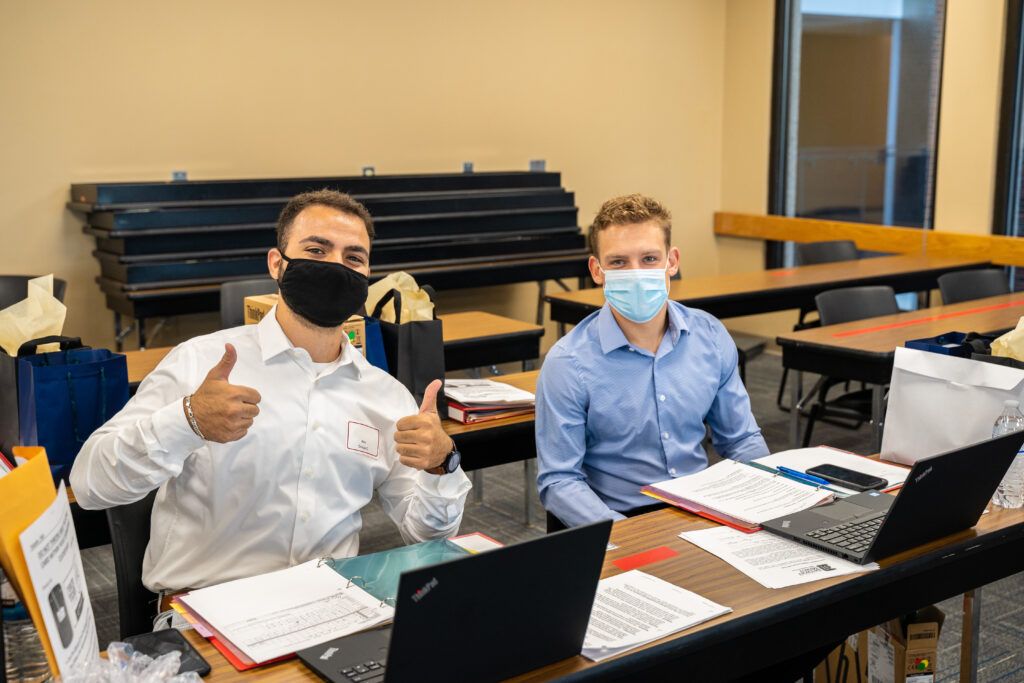 The University of Detroit Mercy School of Dentistry would like to officially welcome the Dental Class of 2024!
Dental students completed a virtual student orientation from Monday, August 17- Friday, August 21, 2020. The week was full of informative online modules, social media challenges and social distant compliant check-ins on campus! Detroit Mercy Dental also joined forces with our American Student Dental Association (ASDA) chapter and the Michigan Dental Association (MDA) for a fun Orientation Week Bingo, where students played by taking selfies at various attractions throughout Downtown Detroit, such as the D.I.A., Comerica Park and Campus Martius, and submitting their photos through Instagram.
Although the majority of Orientation Week was conducted online, students were welcomed on campus in groups of 36 throughout the week to take ID photos, fill out necessary paperwork, pick up their laptops, and meet some of their new classmates and administrators, including Dean Mert Aksu. Students also had several opportunities throughout the week to join live online events, such as a COVID-19 Information Session with some of our Biomedical Sciences faculty and a Curriculum Q&A Session with Dr. Michelle Wheater, Interim Assistant Dean for Academic Administration.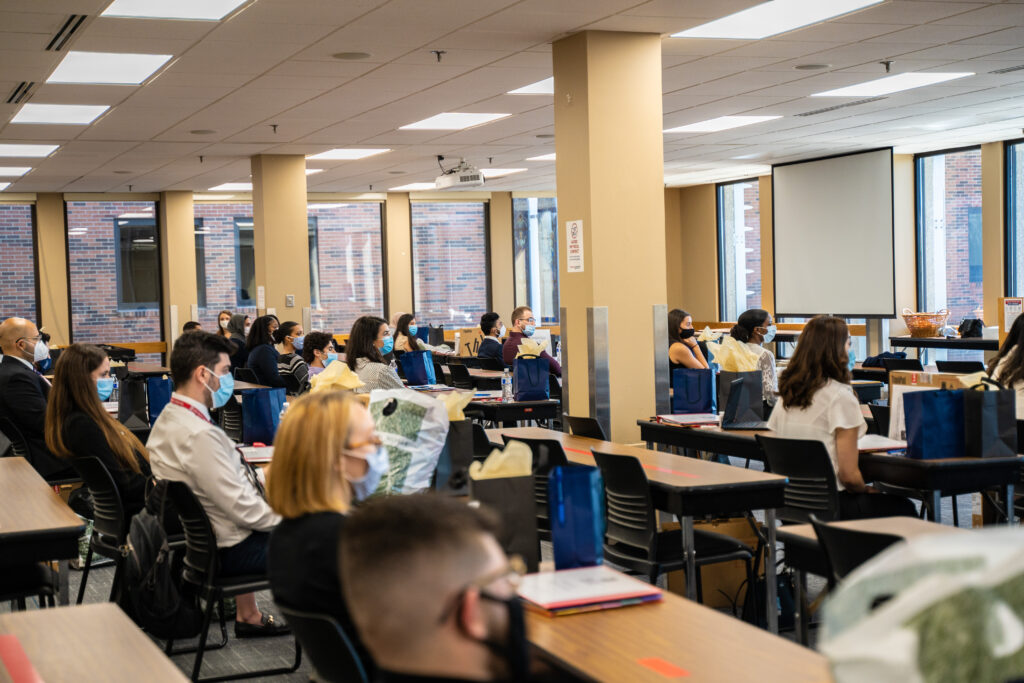 See below for a summary of the Dental Class of 2024's Orientation Week:
Friday, August 7: Optional Online Q&A Session with staff and administrators.
Friday, August 14: Self-paced online orientation began. Students had access to the School of Dentistry's online orientation platform to review content, schedules, deadlines and COVID-19 protocols.
Tuesday, August 18: Optional online Dinner & Learn with the Michigan Dental Association and Detroit Mercy Dental chapter of the American Student Dental Association
Wednesday, August 19: Optional online Canadian & International Student Q&A Session
Thursday, August 20: Optional online Curriculum & COVID-19 Q&A Sessions
Monday – Thursday, August 17-20: Students came to campus in groups of 36 to pick up materials and accomplish necessary tasks.
Friday, August 21: All students participated in online live programming throughout the day via Blackboard Collaborate to learn more about the school, ask questions, and meet classmates and staff. Sessions included a student panel, the first session of DENT 8100, Dental School 101, and introductions to the Offices of Health & Wellness and Diversity & Inclusion.
Monday, August 24: Students came to campus in groups of 36 for a brief orientation for their Integrated Clinical Foundations course. An online Alumni Meet & Greet was held in the evening as well.
Tuesday, August 25: Classes began. The Dental Class of 2024 will attend select classes on campus in small groups and will continue the majority of their learning online for Fall 2020.
Students wrapped up orientation week with a virtual Meet & Greet with School of Dentistry alumni, where students asked questions, discussed life as dental students and received tips for success.
The Michigan Dental Association generously sponsored several events for the Dental Class of 20204's Orientation Week. Students enjoyed participating in a Dinner & Learn to hear about the benefits and opportunities available with their ASDA membership.
Our White Coat Ceremony, typically held prior to the start of fall term, has been postponed for the Dental Class of 2024 and the Dental Hygiene Class of 2021. We will begin discussions for planning later in the fall.
Detroit Mercy Dental is following strict protocol to keep our community members safe. All students were always required to wear a face covering while on campus. Social distancing was always enforced. Upon arrival of campus each student's temperature was taken and all were asked if they experienced any symptoms of Covid-19 or had any contact with someone who tested positive. Those (if any) who felt ill or had contact with someone who felt ill was asked not to come to campus. Prior to campus entry, all students completed a screening questionnaire that was reviewed by School of Dentistry Director of Infection Control Sanjay Chand as well as Interim Director of the Division of Biomedical Sciences, David Fischer.