In honor of Women's History Month, the Office of Diversity and Inclusion hosted a Women in Dentistry event on Wednesday, March 15.  A diverse array of panelists were invited to answer questions and provide advice working in a variety of oral healthcare settings. Faculty, staff, and current dental and dental hygiene students were invited to attend.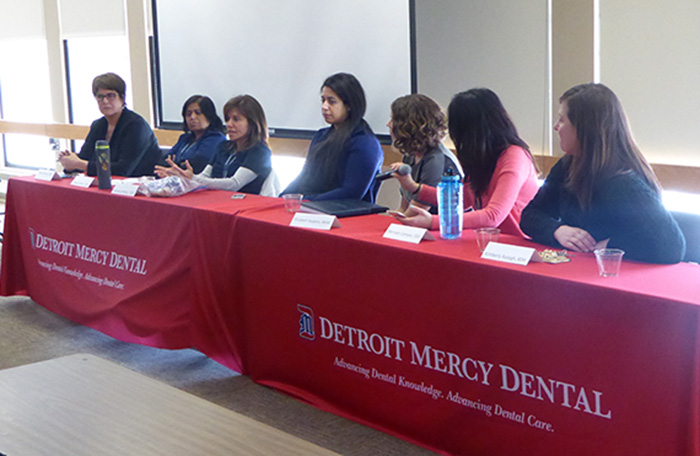 Panelists were a mix of faculty, staff and alumni, all which have diverse experiences ranging from oral surgeon, to dental hygienist turned administrator, to social worker.  Additionally, each was at a different point in her career providing both seasoned and fresh perspective.  Panelists included:
Mary Parise D.D.S.
Swati Chitre D.D.S.
Helena Perez D.D.S.
Joelle Elahad D.D.S. '16
Marinelle de Campos D.D.S.
Elizabeth Rodems M.S.W., L.M.S.W.
Judith Jones D.D.S.
Kimberly Raleigh R.D.H '01, M.H.S.A. '06
The conversation was engaging, lively, and informative, discussing a variety of topics including balancing life and work, building your own practice, raising a family, addressing discrimination in the workplace, managing coworker relationships, and career success.
The Office of Diversity and Inclusion hopes to build upon this event, so stay tuned for future Women in Dentistry programming!