Congratulations!  Pregnancy is an exciting time and a special reason to smile!   It is also a time to pay close attention to your oral health to keep both you and your baby healthy.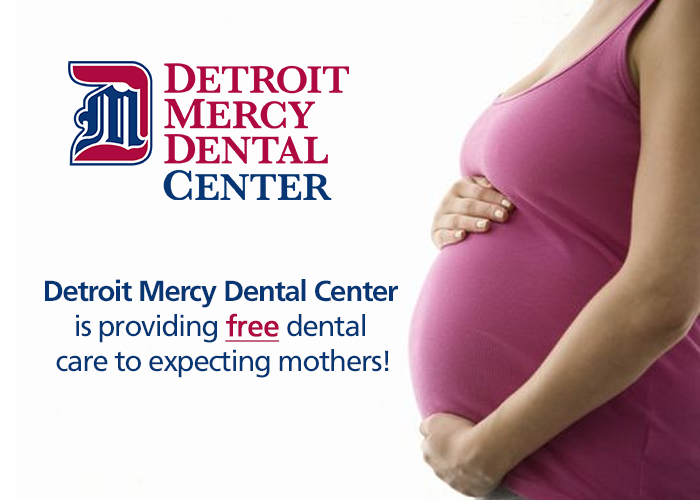 Studies have shown that poor oral health may negatively affect pregnancy and birth outcomes, leading to pre-term birth and low birth weight. Unfortunately, these conditions are the top reasons for infant mortality, but they are preventable and we are here to help.
If you are pregnant or know someone who is, Detroit Mercy Dental Center is currently providing dental care for expecting mothers, free of charge.  This is made possible through partnership and the generosity of the Detroit Medical Center Foundation.
Here's how it works:
Step 1: Get a referral from your OB doctor to receive dental treatment
Step 2: Call one of our clinics to make an appointment and mention this program*
Step 3: Create better health outcomes for both you and your baby
*No dental insurance is needed
Detroit Mercy Dental Center (Corktown)
2700 Martin Luther King Jr. Blvd.
Detroit, MI 48208
(313) 494-6700
Detroit Mercy Dental Center (University Health Center (UHC)/Detroit Receiving Hospital)
4201 St. Antoine St.
Detroit, MI 48201
(313) 745-4595
Through training, teaching, and treating, Detroit Mercy Dental's OB-Oral Health Program provides pregnant patients with optimum healthcare while simultaneously creating an interdisciplinary learning opportunity.  Funded by Detroit Medical Center Foundation and led by Dr. Melanie E. Mayberry, clinical associate professor and chairman, Department of Oral Health and Integrated Care, and Dr. Bernard Gonik, professor, Obstetrics and Gynecology, Wayne State School of Medicine, the program seeks to improve OB patient outcomes with collaborative care.