With Jon S. Ryder, DDS, MS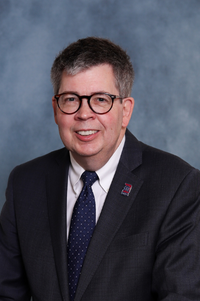 Jon Ryder, D.D.S., M.S. joins Detroit Mercy Dental as the associate dean for academic administration. Ryder has held a variety of leadership and teaching roles at multiple institutions ­– most recently, he served as Dean of the University of New England College of Dental Medicine.
Ryder received his B.A. in Asian Studies from Augustana College and his D.D.S. from the University of Iowa College of Dentistry. He earned an M.S. in Oral Medicine and Orofacial Pain from the University of Southern California Herman Ostrow School of Dentistry. Following dental school, Ryder entered private practice as the owner of three dental practices in Iowa. He was an adjunct assistant clinical professor in the Department of Operative Dentistry at the University of Iowa College of Dentistry for over 12 years. Ryder has completed considerable post-graduate education in oral medicine, orofacial pain, dental implant surgery, and prosthetics. He also has extensive private practice experience in complex/advanced fixed and removable full-mouth rehabilitation.
Since 2004, Ryder has organized and led dental humanitarian trips to Southeast Asia, where he has also regularly volunteered and lectured. He worked for many years, both individually and as part of a team, with dental schools in Cambodia on curriculum design and educational development. He has received awards for his work as an educator and advisor to the dental schools and the Cambodian Ministries of Health and Education. Ryder has also practiced in a large international group practice in Singapore for several years and has received licenses to practice dentistry in four countries.
Ryder is a Fellow of the International College of Dentists, the International Congress of Oral Implantologists, and a member of the American Dental Association, the Singapore Dental Association, the Cambodian Dental Association, and the International/American Association for Dental Research.
Recent research interests include botulinum toxin A's efficacy for treating trigeminal and post-herpatic neuralgias.
Together with his family, two dogs, and an Airstream travel trailer, Ryder enjoys visiting State and National parks and discovering the beauty of our natural landscapes. He has been a life-long musician and enjoys playing the drums, guitar, and piano. Dr. Ryder is an avid photographer and has had travel photographs published in several publications, including Asian Geographic Magazine.
Please join us in welcoming Dr. Jon Ryder to Detroit Mercy Dental!